This is my second attempt after my hard drive crashed last week, the day after I wrote my trip report, of course without back-up of that file. I first didn't want to write it again, but it was and still is a memorable flight (with some lessons learned), so here is version 2.0.

The idea
Last year I was forced to take 12 holiday days in August or September, otherwise I would lose them. 5 of them are for work purpose so this was ideal to find a combination. So in June I was searching for a reachable congress, at first I wanted to go to Ljubljana. Nice destination and nice topics but there were too many volunteers for that date so the only other interesting opportunity was far further away… Istanbul. Should I or not? A crazy idea said the people around me, but I never take things easy…so let's go further with our challenge.
There was also a Euroga fly in, I first wanted to go in between, but the dates in Istanbul were fix and the fly in was just one week too early although my plan had the same destinations enroute. A Pity…but the Athens Flying Week was right in time.
I mentioned the idea first in my club in July and my instructor who still teaches me a lot, was immediately enthusiastic with the idea.
The plan (only flying before noon and the rest of the day a visit to the city or beaches or …)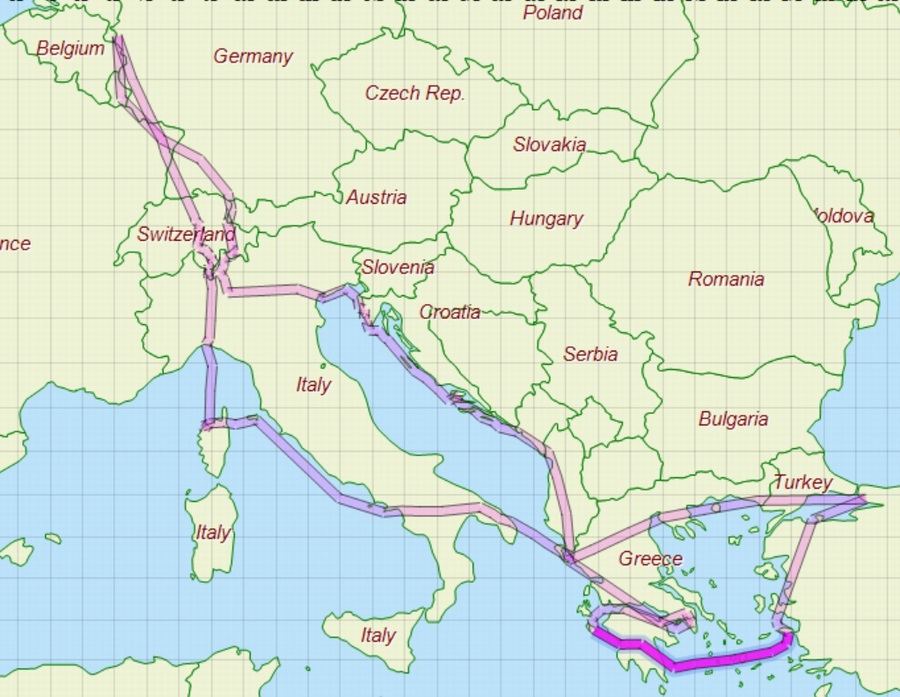 D1 Belgium – Venice (LIPV)
D2 Venice – Losinj (LDLO) or another field in Croatia
D3 Croatia – Athens (LGAV)
D4 Athens Flying Week (LGTT)
D5 Athens – a beautiful Greek Island
D7 Greek Island – Istanbul (LTFj)
D10 Istanbul – Corfu (LGKR)
D12 Corfu – Corsica (LFKC)
D13 Corsica – Lugano (LSZA) – Belgium.
Another member heard about my plan and asked if he could come with me because, due to his age, he doesn't make any trips anymore and this was a nice opportunity to make a nice trip. He is mostly a glider but also tows the gliders a lot. About 2000+ TT, but all local. He is not qualified on a complex aircraft and almost never flies trips but that is not that important.
I booked the club Mooney and a few weeks later there was yet another pilot who wanted to come with us. He has a PPL for about 4-5 years, 200h TT but never went outside Belgium and flew never larger parts enroute into controlled airspace. He was freshly checked out on the Mooney about two months before the trip. He could only take a few holidays on his work, so he would fly with us to Athens and take a plane to Belgium back after the airshow.
Something about me
PPL from August 2014. Night VFR. At that time about 140h TT and not a lot of experience enroute.
- Trip to Sweden Oct 2014
- Trip to Helgoland 2014
- A few nice day trips to France, Germany, the Netherlands and London
- Only mountain experience: a site rating at Courchevel July 2015.
The plane
Mooney M.20J Aerostar 201 1980 – IFR certified with a simple stormscope and a one-axis wing leveler.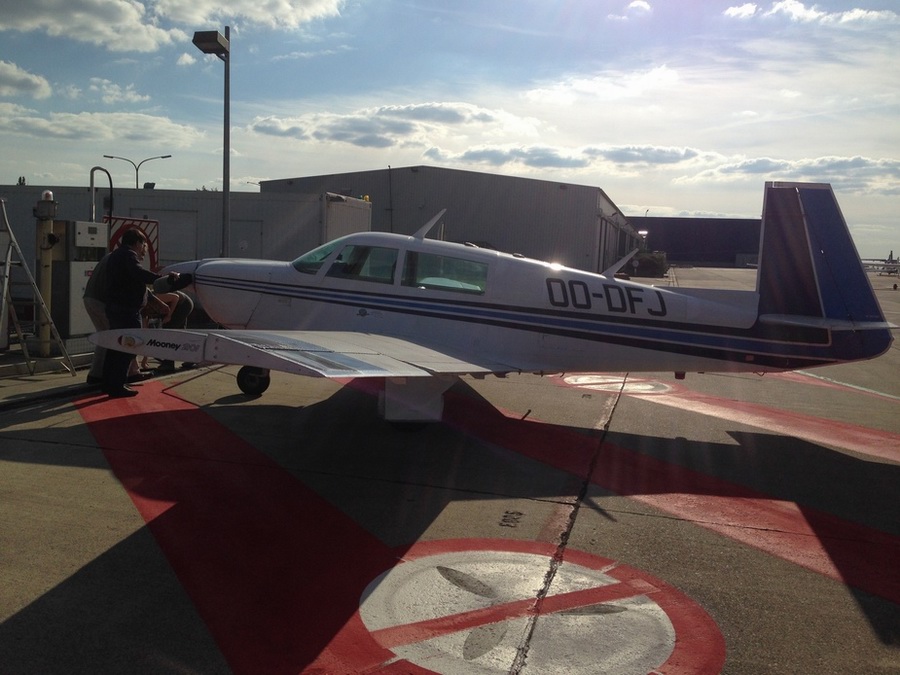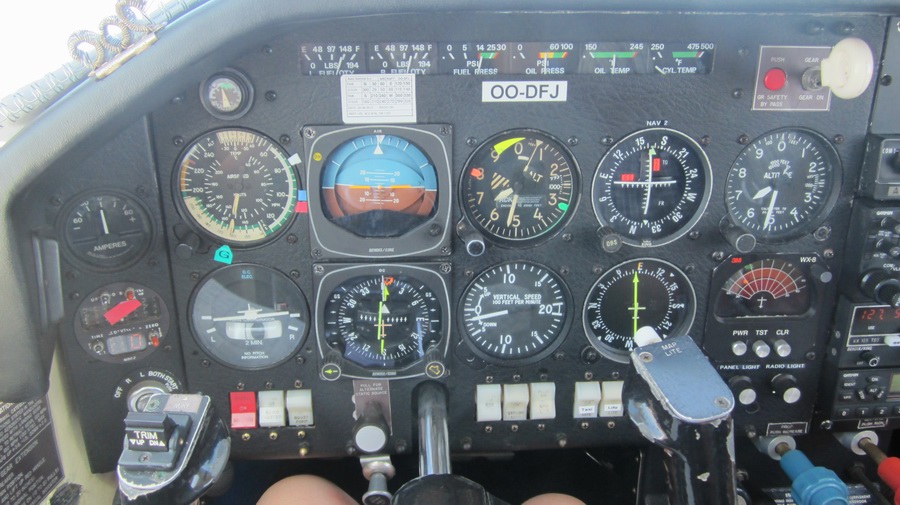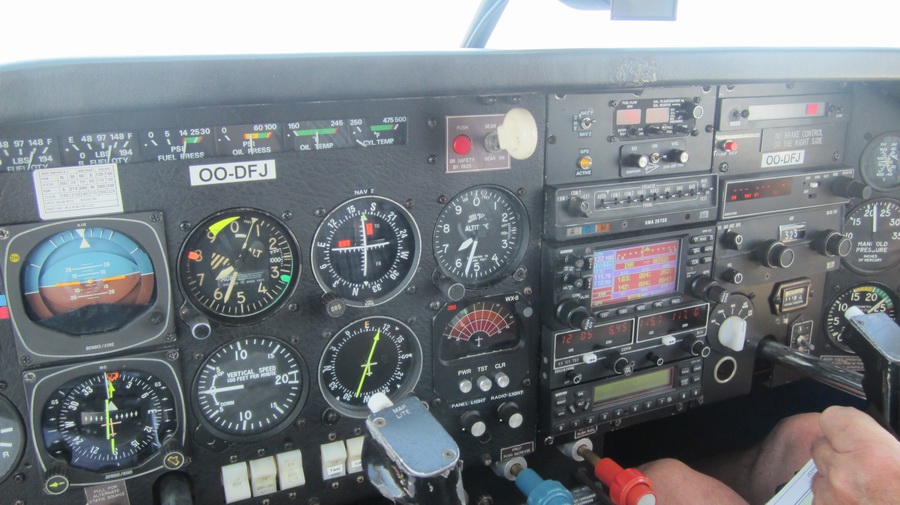 We had the plan to make the preparations for the flight and after we completed the most, show them to the chairman of the aeroclub, so he would know we were well prepared. (He heard already of the trip). But about 3 weeks before departure I received an e-mail my booking was cancelled, without any further notice or call. I waited half a day on a phonecall with explanation before I called myself. They told me I was not experienced enough for such a trip and I was even reckless for even thinking about such a trip. I had no IFR and if they had known before I had only 100h TT before I went complex, they would have not checked me out because of the few hours (it was asked and they agreed) and the difficulty of flying a faster complex airplane. So if I had such ideas, they had "to protect me against myself"…
The funny part of this was, no one of them has ever flown with me, it was only based on my TT and the lack of an instrument rating. It made me unsure and even though I knew I could make such a trip, I went back to my PPL-instructor and my two Mooney-instructors/examiners from the club. They know me and the type of pilot I am, and all 3 said the same: "You are more than capable for such trips." And "I signed you off for the Mooney and that means you are capable to fly that plane wherever you want, you can do it, even Istanbul or further". So I decided to go further with my plan.
We went to EDKA (short field) and where checked out on their Mooney on 14 minutes with the knowledge of the plans and our experience. But during the flight, we noticed the autopilot needed a little fine tuning. We booked the plane and they would fix the autopilot before our trip.
The preparations
My copilot really wanted to fly the first leg because I planned a nice Alps crossing and I would get my chance on our way back. Also the second leg was for him because he would only fly with us to Athens and I would fly whole the rest of the trip. The last leg to Athens would be for me because it is a big Airport and I really like those controlled airports. Everybody would prepare his own leg and the pilot in the right seat would do the radio/ATC en route while the other would fly.
The weeks before I gathered a lot of information here on Euroga, trip reports, the site of Bosmantico and Peter, AOPA Greece, … A lot of them I passed to the other pilot. It was not so much work anymore, because with SkyDemon I made already a rough template of the whole routing (including a possible routing for the Alps crossing), so he needed only to adapt it a bit further.
The weeks before I mailed also a lot with handling companies for Turkey. I wanted to fly to Ataturk because they have also AVGAS and everything was fine, until suddenly there was a notam: VFR prohibited because of work in progress on a runway or taxiway, the other option was Sabiha Gocken, but it had no AVGAS or parking space available. They could not promise me parking space for more than 2 days (notam). The permission (I needed 3) had to be received from the airport authorities, but they give it only 2 days in front. Not easy because I would already be enroute, so if it would not work out, I would fly to Corlu (LTBU) as alternate. And on top: there are no VFR charts for Turkey and it is not covered in Skydemon. I ordered a low level enroute IFR chart and with the autorouter I searched for a nice IFR routing to Sabiha. With FliteStar I printed charts – that should be enough in combination with a GNS430. It would be the easiest to follow the regular airways, the routing was checked by a forum member from Istanbul Flying Club and it was a go.
We finalized everything and I had for each leg a nice flat map with all the information needed inside (charts, approach plates, alternates, parts from the AIP, opening hours, phone numbers, hotel information, pilot log,….)
Leg 1&2 – 11.09.2015 – Belgium to Portoroz (LJPZ) to Split (LDSP) – 587 + 192NM
Thursday 10.9 we left early in the morning to EDKA for our first Leg to Venice. It was nice, beautiful weather and the GAFOR routes would be open before noon. At EDKA, we asked for a short test flight to check the autopilot because they fixed it, but during the test flight, in a turn, he kept banking until more than 60° and did not disengaged, there was still a problem with the autopilot. For a trip of one day ok, I wouldn't mind, but for 13 days, with parts overwater, I wanted a reliable one…so again, we had no plane anymore. We went to the city center to eat something and to make up our mind, this trip seemed to be doomed…
We contacted our contacts and everybody was searching for a nice travel airplane. We checked all the TB20, TB21, Mooney, Piper Saratoga, Commander 114,.. we know, but no one was available on such short term and for so much days. We had to cancel whole the trip. When we were driving home, I was not ready to accept and I told the other two just to think one last time and check all their contacts, maybe we looked over someone. And yes, a contact of a contact know an instructor with a Mooney M20J on EBCI, we got the contact details and made our last shot. The plane was available and he had time to meet us, so we went to Charleroi Airport to have a talk. He asked us for our experience and where we did Mooney training. The name of our club was just enough for him, he even didn't ask for a check out anymore. It was too late to depart that day, but we had a plane and we could leave the next day. We went home.
That evening, we finished the last details and went to bed early. The next morning there was some fog and the GAFOR routes were still closed when we departed to EBCI, but they were to come open within 2 of 3 hours: perfect. I gave my copilot the number of the weather service in Brussels and he called the weatherman to discuss the situation. There would be a few clouds above the Alps but nothing bad and it would be ok to cross.
We were running late and I told my copilot we would not make Croatia anymore with the dogleg (one hour extra) of the Brenner and an extra stop in Venice, it would be too late and I told him we had to take another Alps crossing route to save time. I prepared the new routing: Innsbruck – GAFOR A20, A40, A41, A42, VFR3 route to Portoroz (fuel stop) – ADRIA 1 to Brac. When they came back 30 minutes later, they had already prepared the plane.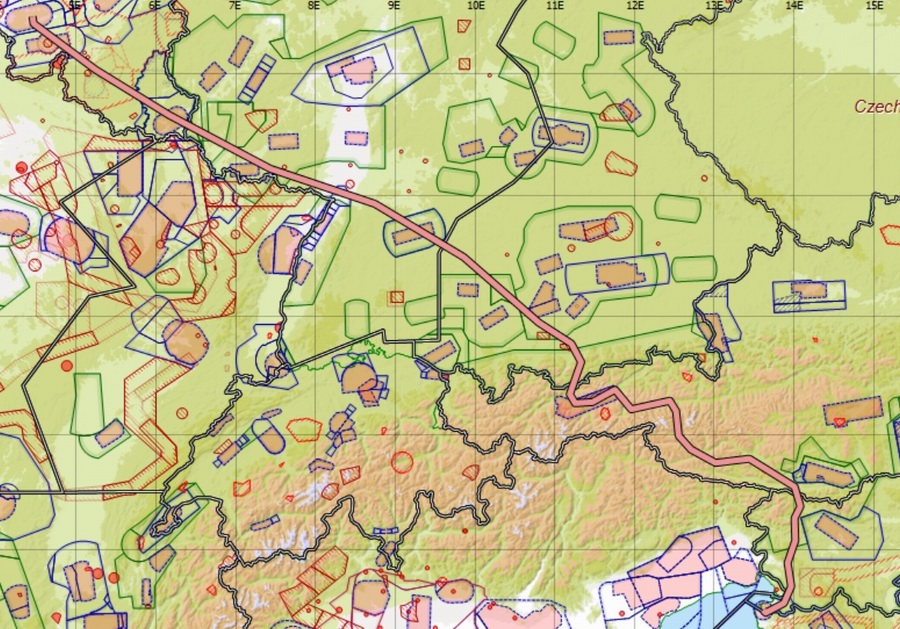 We took off, a bit later than planned, but we were on our way. It was a nice day and we took FL85. Enroute we got a nice crossing for Stuttgart and soon we were heading to the Alps. They were really beautiful with only few clouds above the top of the mountains, nothing bad. We passed the beginning of the Brenner Route, went further and the PIC relaxed a little bit. It seemed not so impossible as in his mind.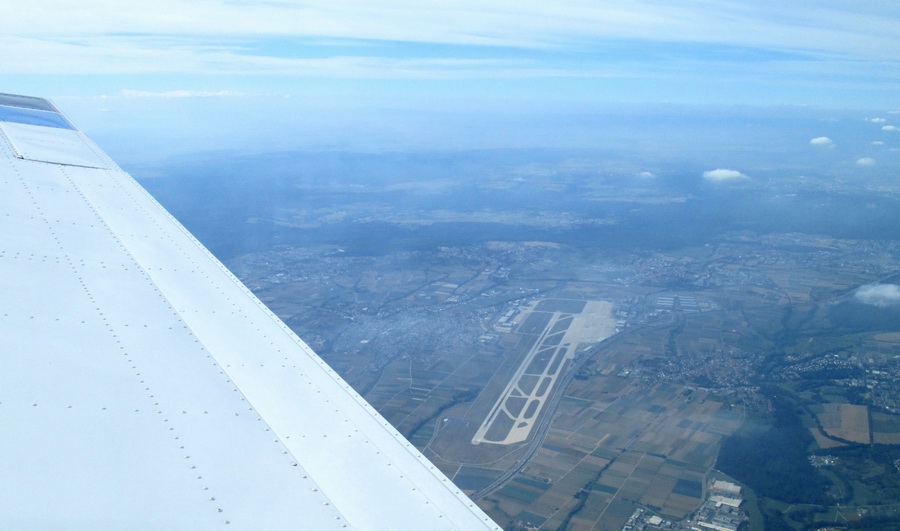 Approaching Innsbruck: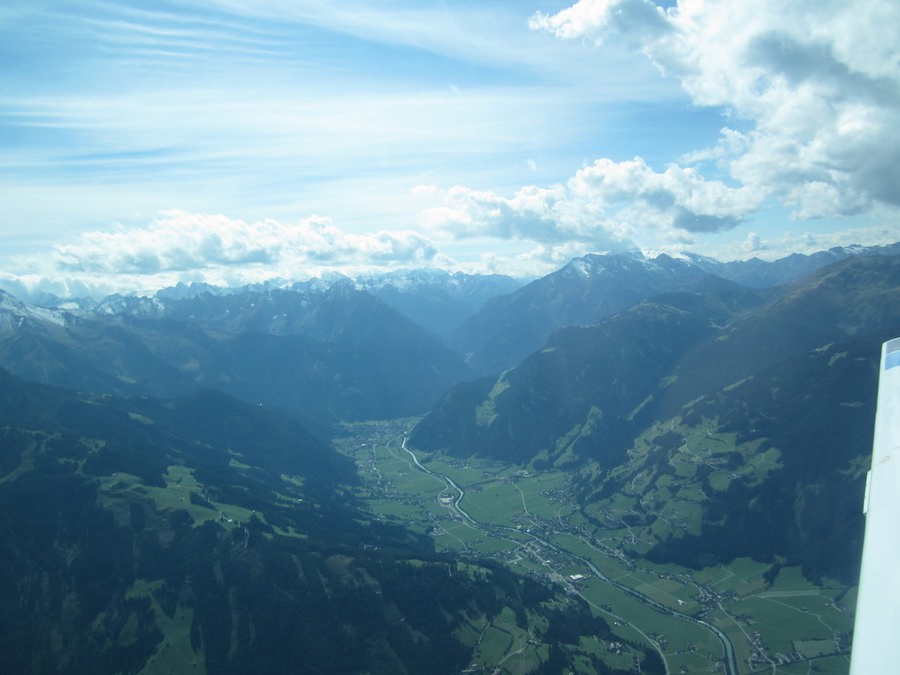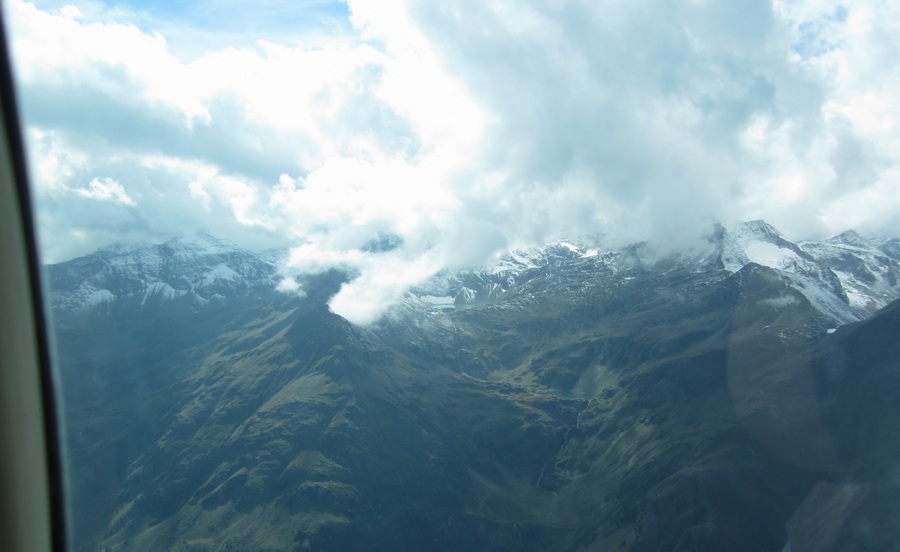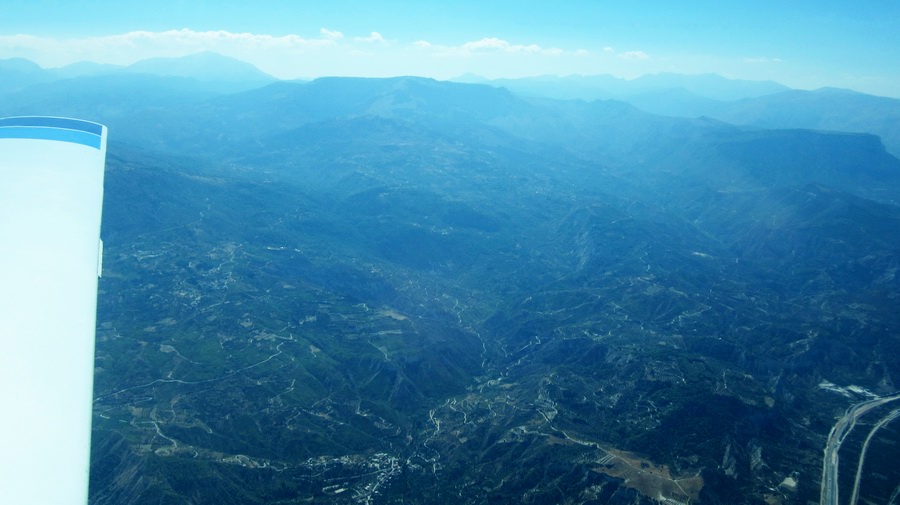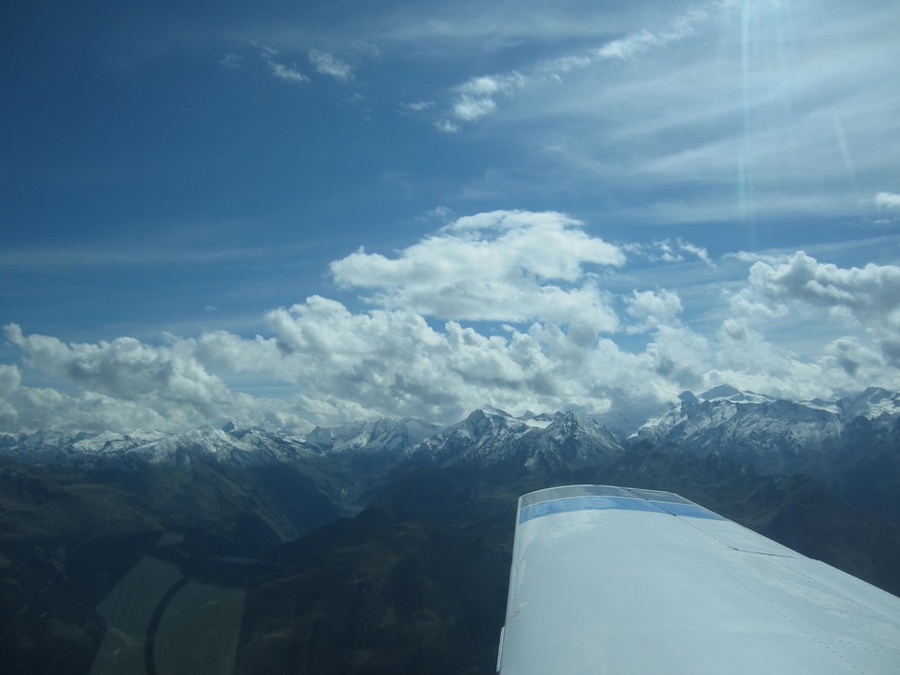 The narrow part of the route would be between Mittersill and Matrei in Osttirol. When we came there, we turned into the pass above Mittersill, but instead I told him to stay on the right, he went to the pass on the left because that seemed to be the biggest pass. I told him to take the other one, but he would not believe me, until he saw the pass ended, he immediately turned back in panic but was heading towards the mountain wall and was descending without noticing. I told him he had to turn and not flying to the wall but he didn't hear us, it made me scared. On the moment I wanted to take the yoke to make our turn he noticed, leveled off and turned back to Mittesill. He wanted to fly back to LOWI to land there. I told him he had to take the other pass like I said and we could convince him to another try and I could direct him to the right pass. (It seems to end) He was convinced we could not get through because visually it stopped in a ridge at the end. But just before the end, he saw what I meant by telling him to fly over and after the ridge there was a nice, new beautiful valley. At that point he totally relaxed and became another pilot. I never saw anybody changing that much on a few seconds. It was like he was another person, not nervous anymore, not scared, relaxed flying and now…overconfident.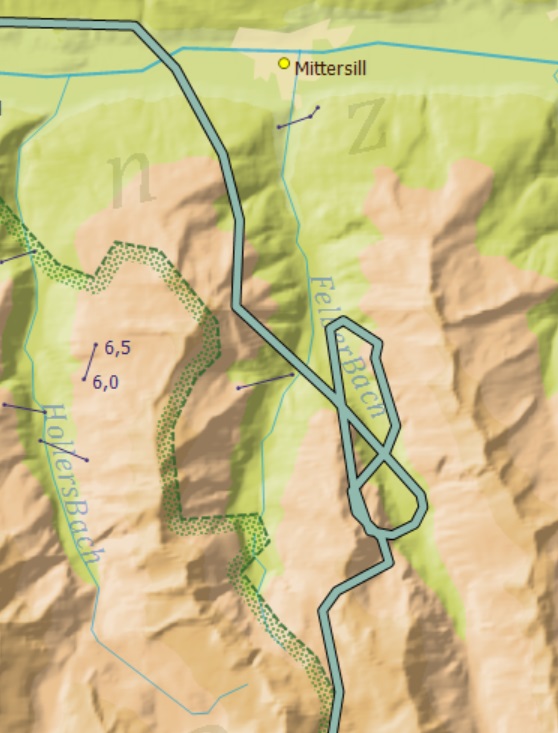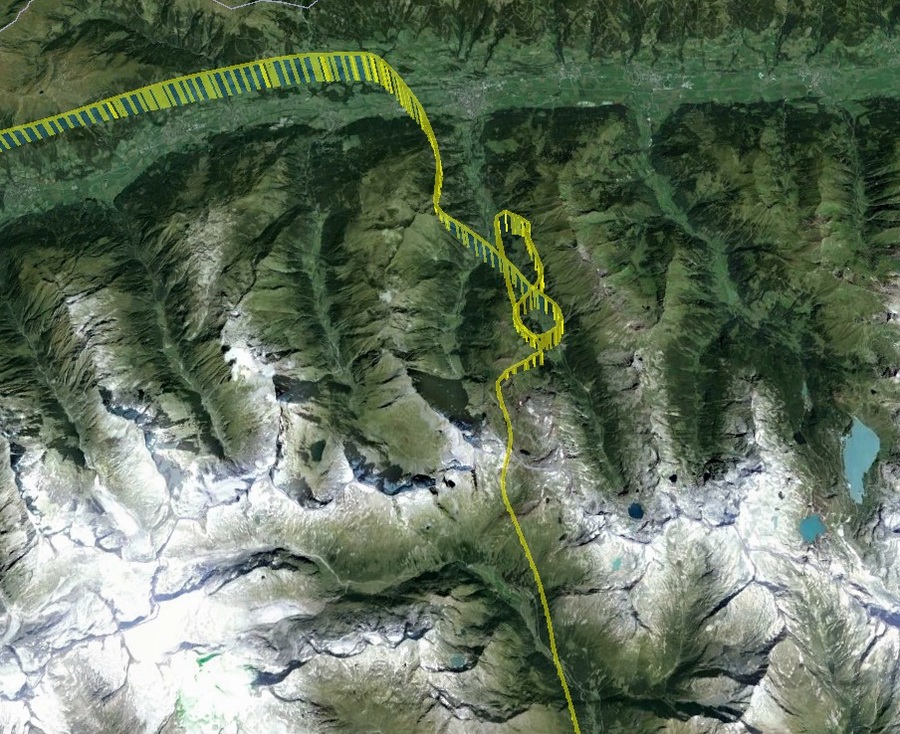 The rest of the trip went without any problem and soon we landed in Portoroz for a fuel stop, but also we needed some time to overthink everything by a lunch.
Approaching Portoroz: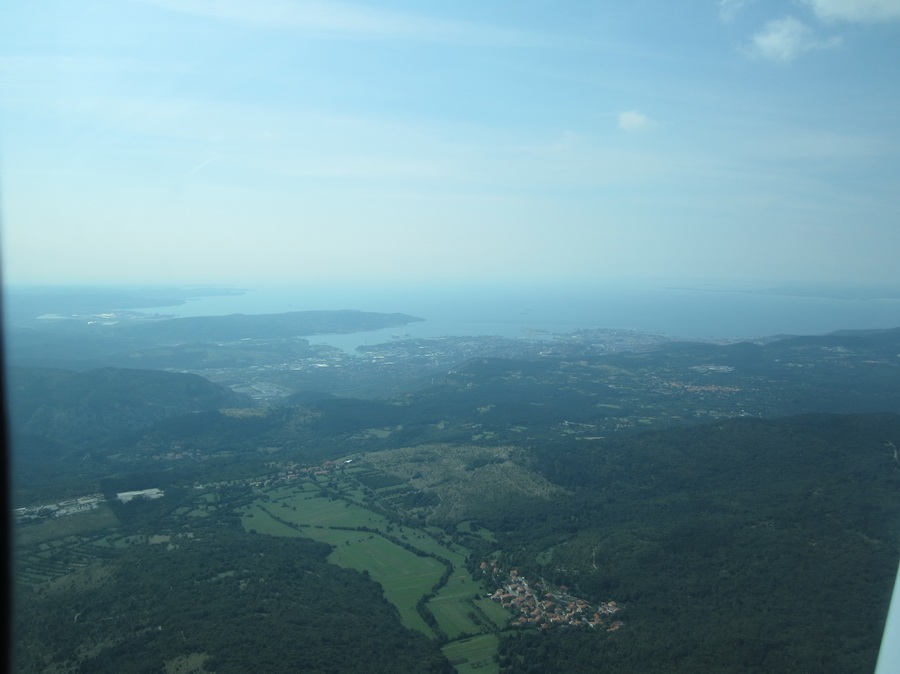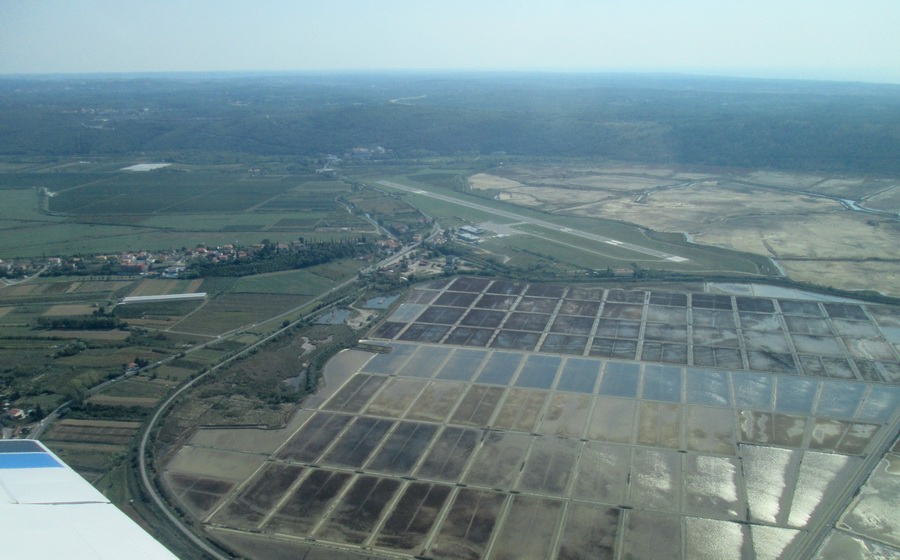 When paying our landing fees, they told us Brac was going to close within one hour, we could make it but it would be a very close call. We decided not to have stress anymore that day and fly to Split instead.
Flying the Croatian Coast is really a joy, so beautiful!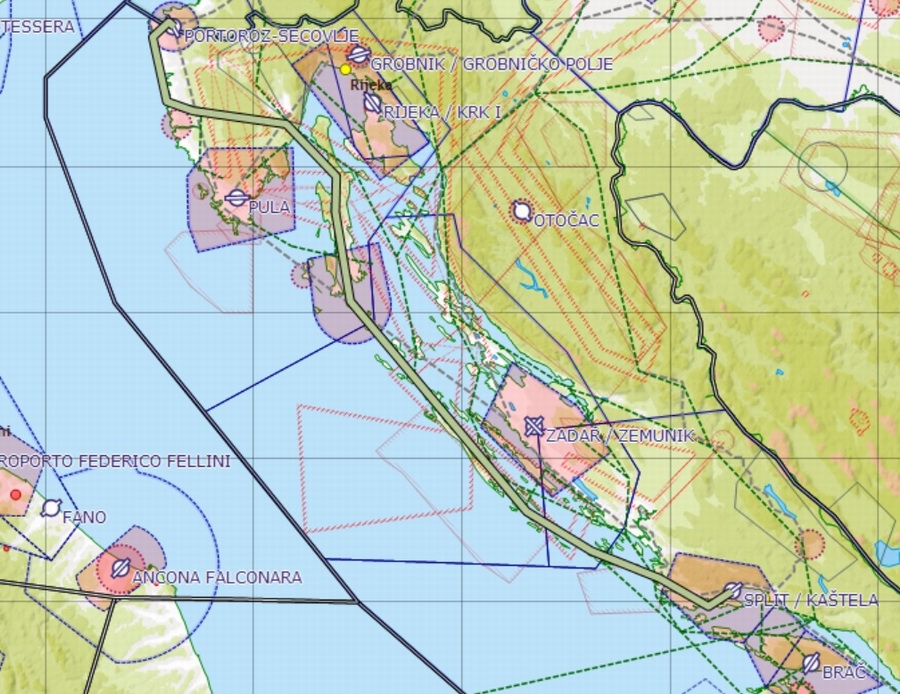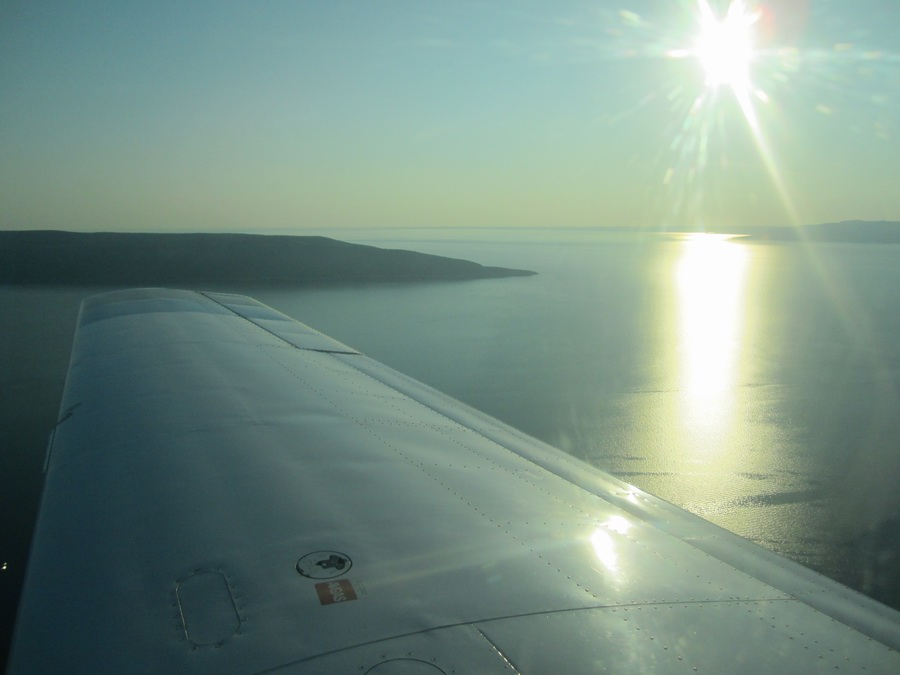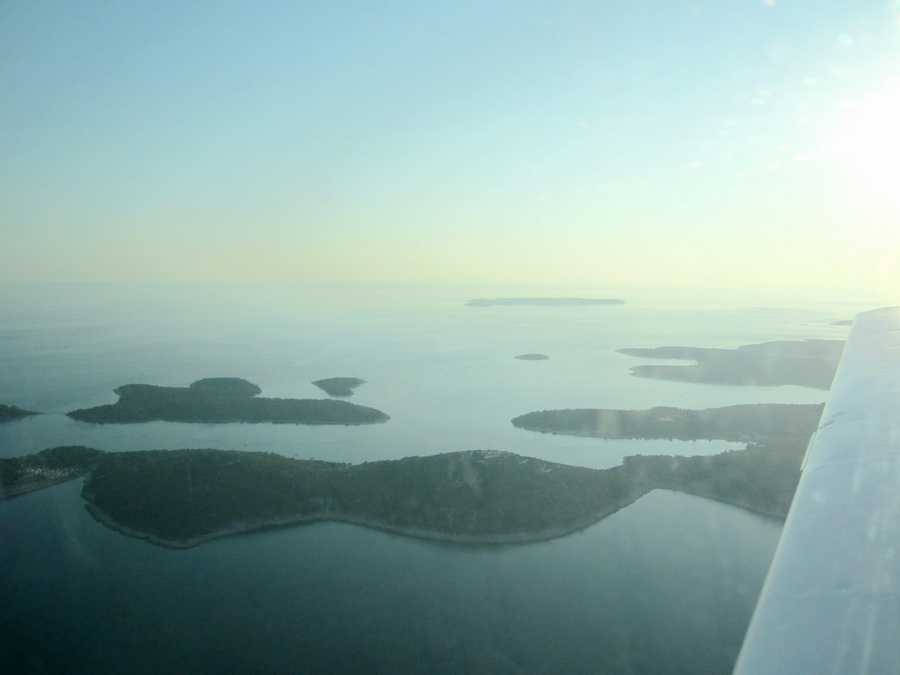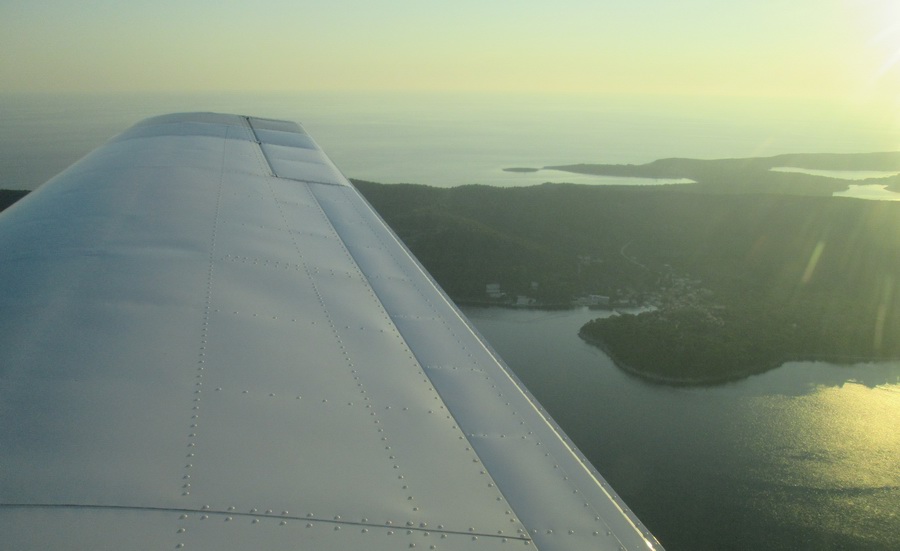 We followed the ADRIA1 route but we noticed not all the reporting points they told us, were on our Skydemon map. We found them on our paper chart and the flight went without any incident. After a beautiful approach we landed in Split.
Final in Split: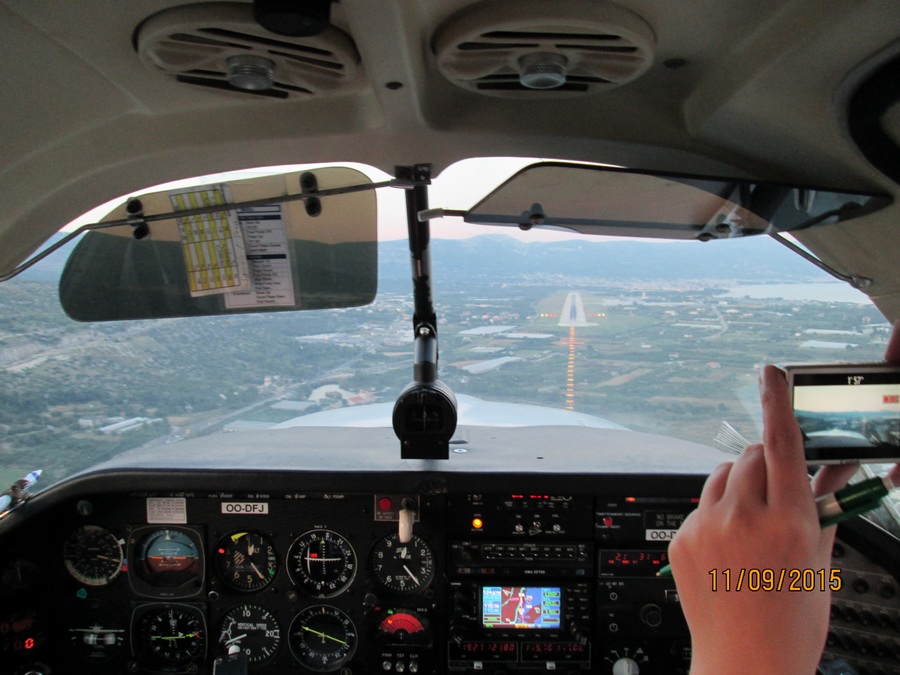 They told us we had to leave early the next morning because they were expecting over 100 aircrafts on their apron the next day. We agreed and left to stay the night in Trogir. Trogir is a really beautiful small city next to Split and the historic center has been included in the Unesco list of World Heritage Sites: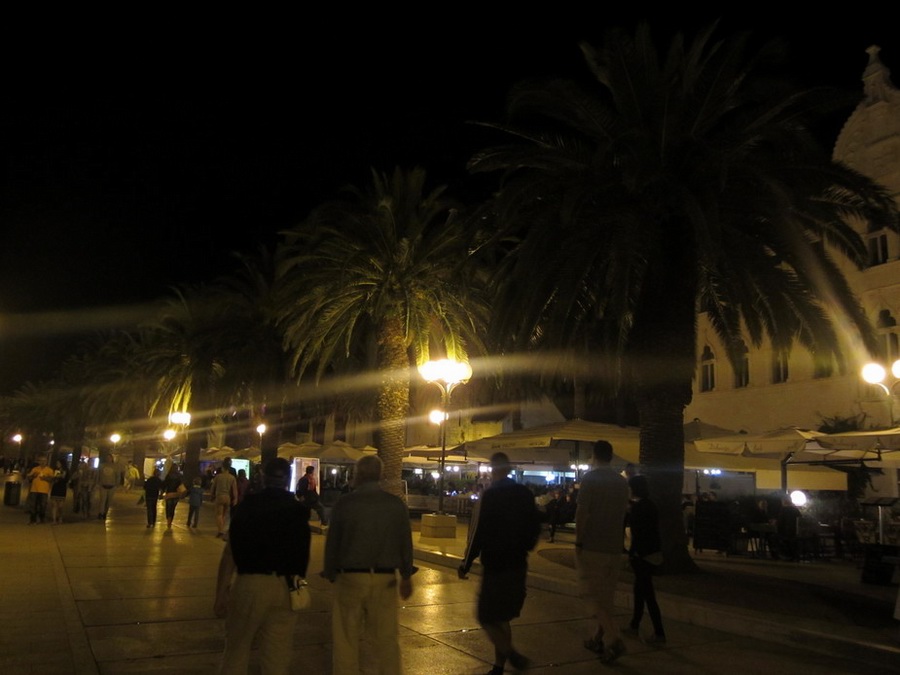 Leg 3 – 12.09.2015 – Split (LDSP) to Athens (LGAV) – 596NM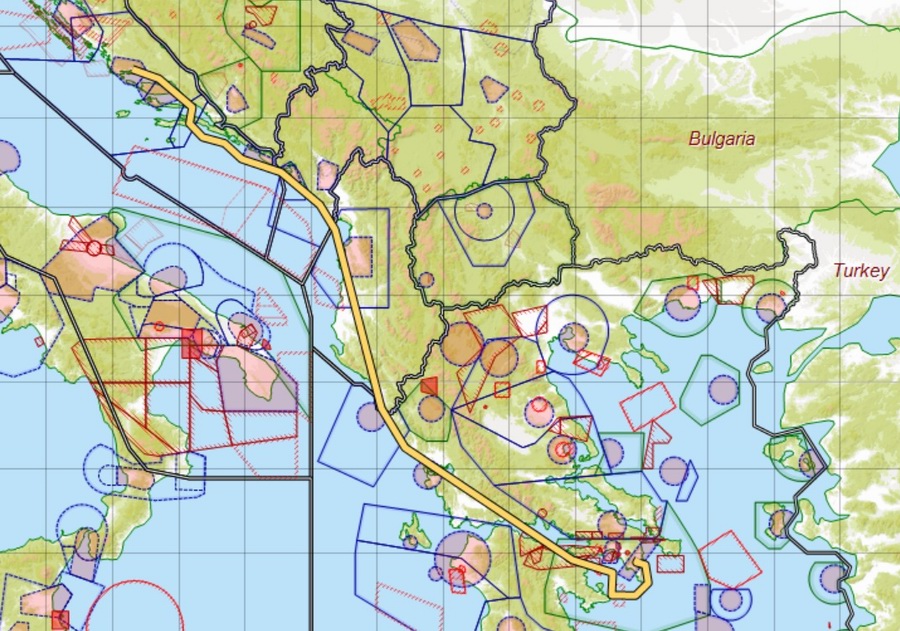 This day, we left early to the airport and after the formalities, we were free to go. This time I would be PIC and the other pilot would do ATC. I started up and he was asking for taxi. He had the airport chart and would navigate me to the holding point. After doing the run up, ATC asked us if we could accept an intersection take-off. He didn't answer it so they asked again. And again he didn't answered, so I did and told them I accepted an intersection take off. We could line up and when I was turning for lining up my copilot immediately told me I was turning the wrong side, I had to turn to the other side, also the person in the back told me he was sure I was turning the wrong side so I was a bit confused but 2 against 1, I had to be wrong, so I turned the other side. Immediately ATC asked our intentions because we were turning the wrong side and we had to leave the runway now because of incoming traffic. It seemed the other two had not understood I accepted an intersection take off or didn't know what that was and wanted me to backtrack the runway for lining up on the end. We explained to ATC and after the airliner landed, we could depart. It wasn't a surprise they were happy to get rid of us.
It was again a beautiful day to fly and the Croatian Cost in the morning…lovely.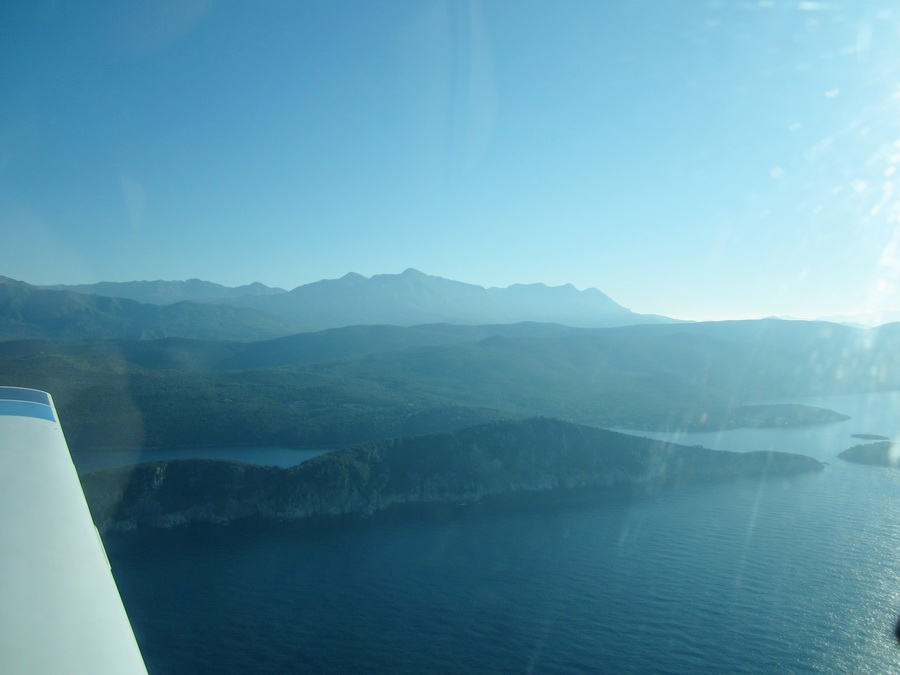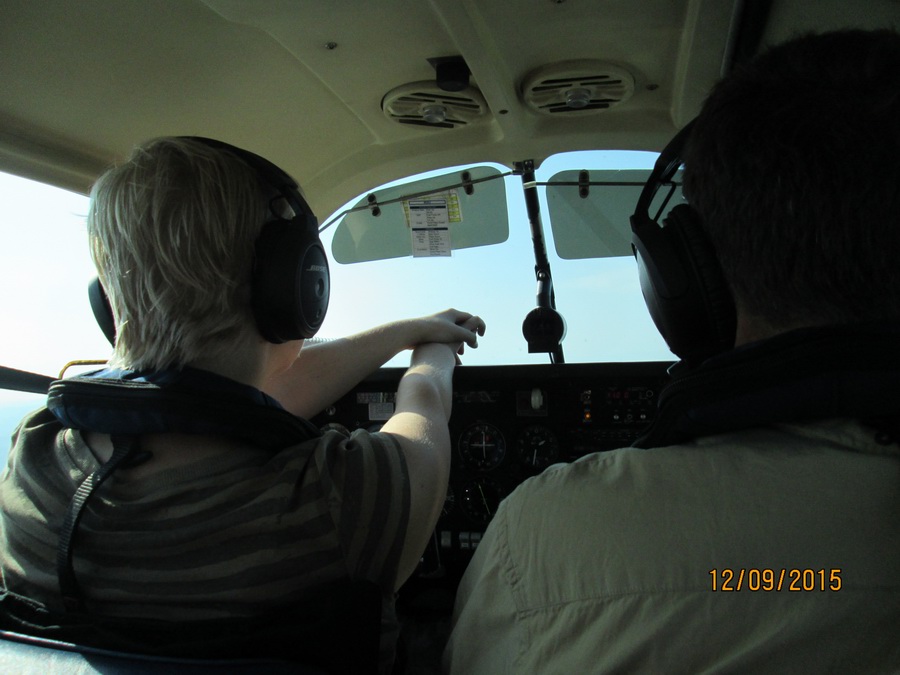 En route I noticed my copilot who was doing the radio, always replied ATC for the next reporting point, but often did not understand them. He pronounced the sounds of the reporting point he heard and he did it so convincing ATC was thinking he understood, I taught him the sentence: "please say again" as much as necessary to understand the next point.
Albania: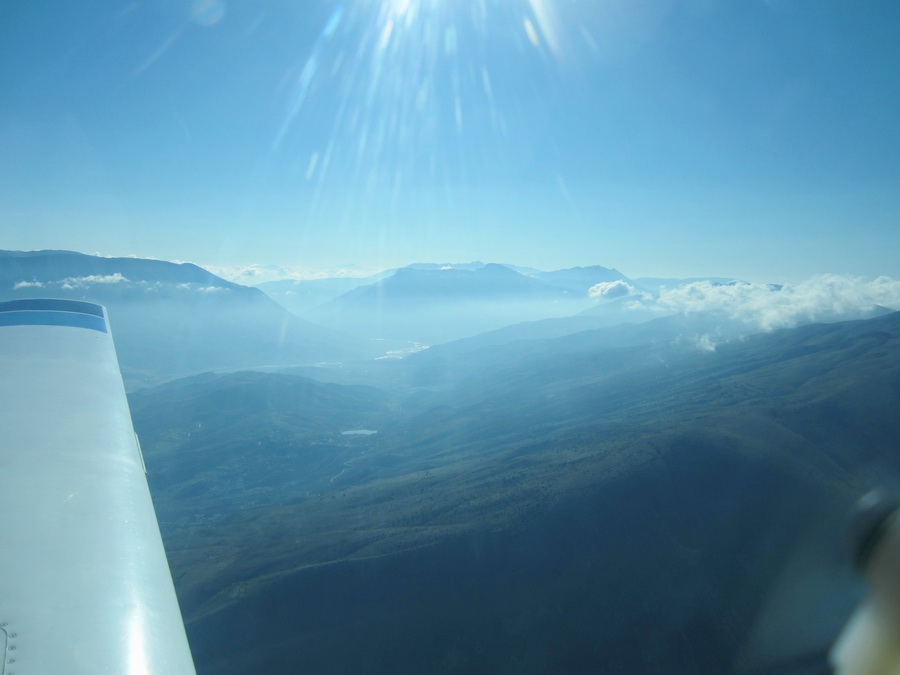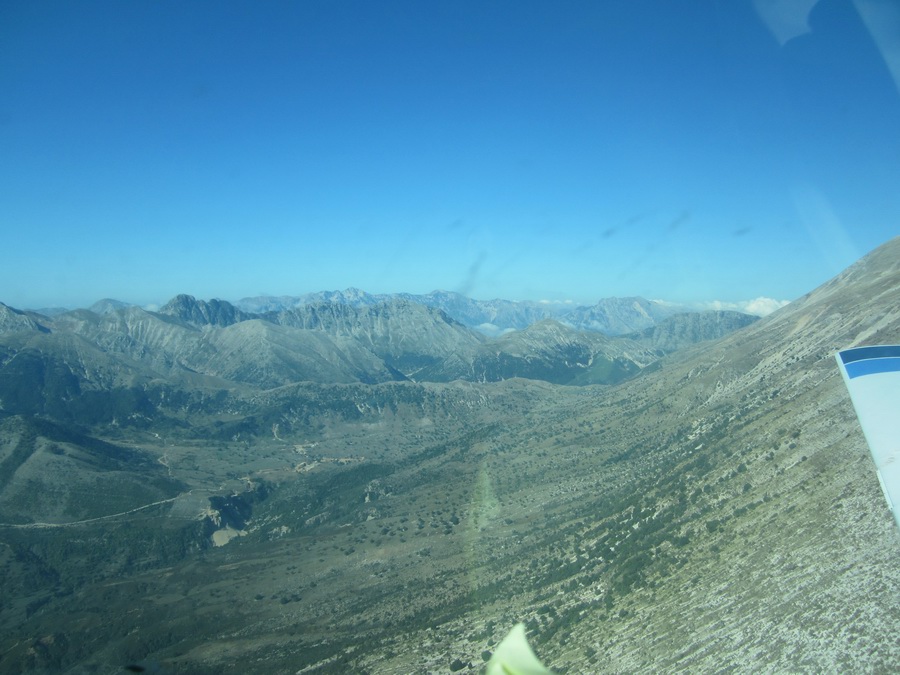 Greek mountains: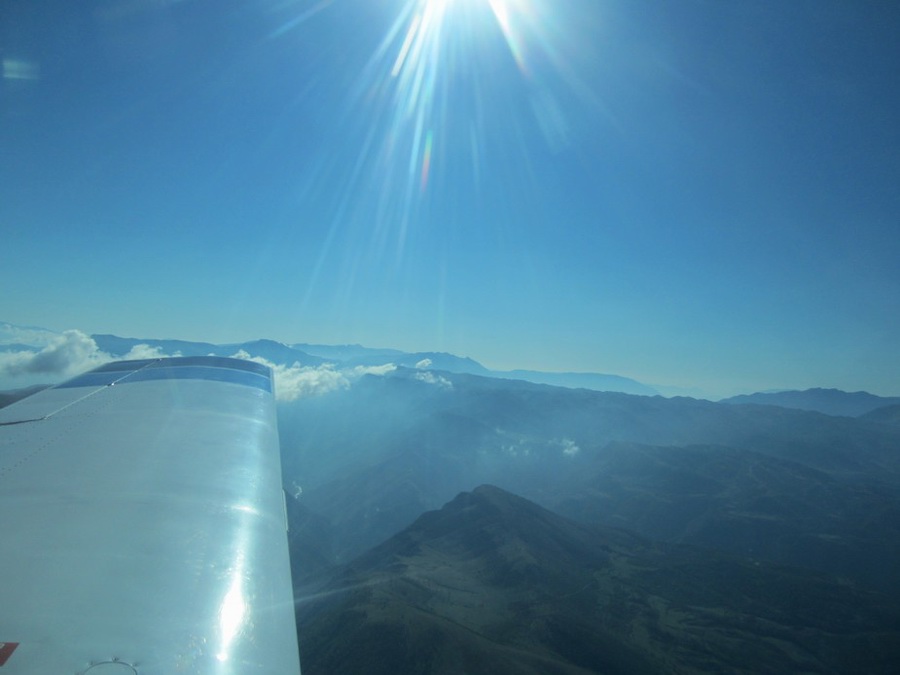 Athens told us our intended routing (approaching from the North) was not possible and they asked us for a new routing for approaching them. I studied the charts already in front of the trip, so I could give them immediately our new Southerly routing over the Sea when my copilot was flying. The approach and the landing went without any problem although it was very bumpy in final at noon. We got progressive taxi instructions and soon we were on the GA apron where our handling agent was waiting us. We got an excellent service and soon we were heading to our Hotel in Athens.
The rest of the day we went visiting the Acropolis and in the evening we had really amazing seafood with Papadakis. (stunning Greek Cuisine with a focus on creative seafood that is absolutely superb and delicious)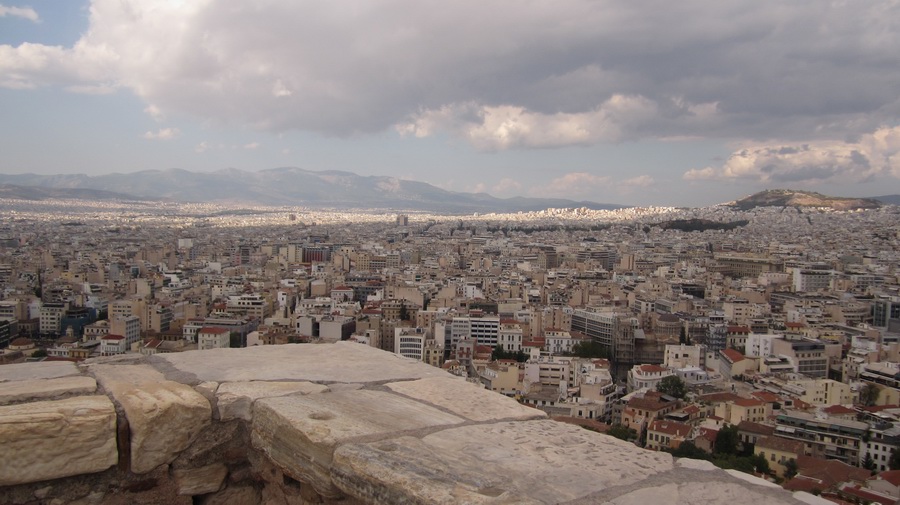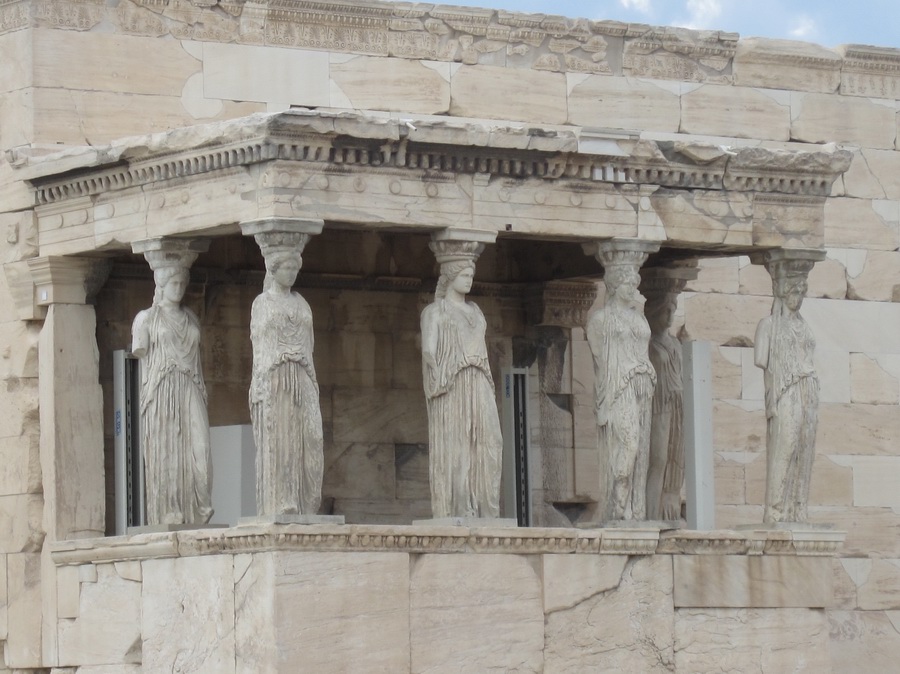 Because we changed the plane at the last minute, AOPA Greece could not get us a new clearance to land in Tatoi so we decided to go there by train. It was a very nice Airshow and we met a few interesting people.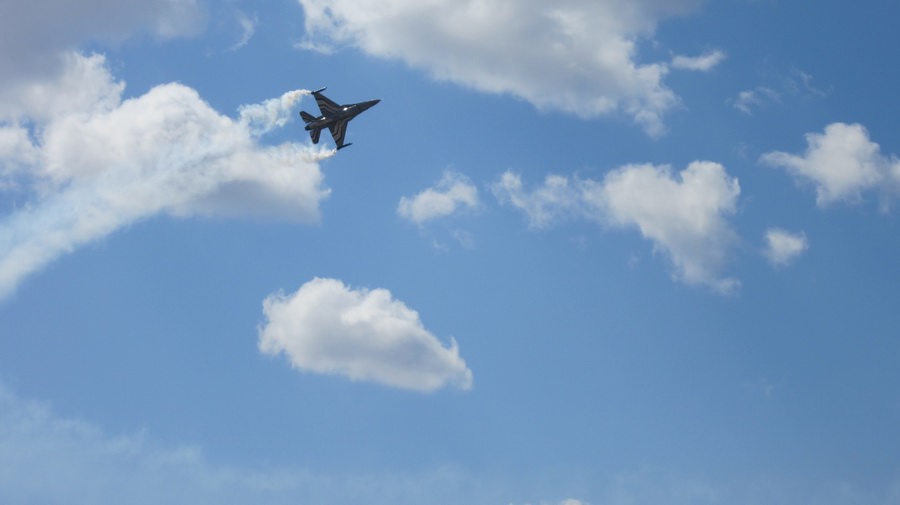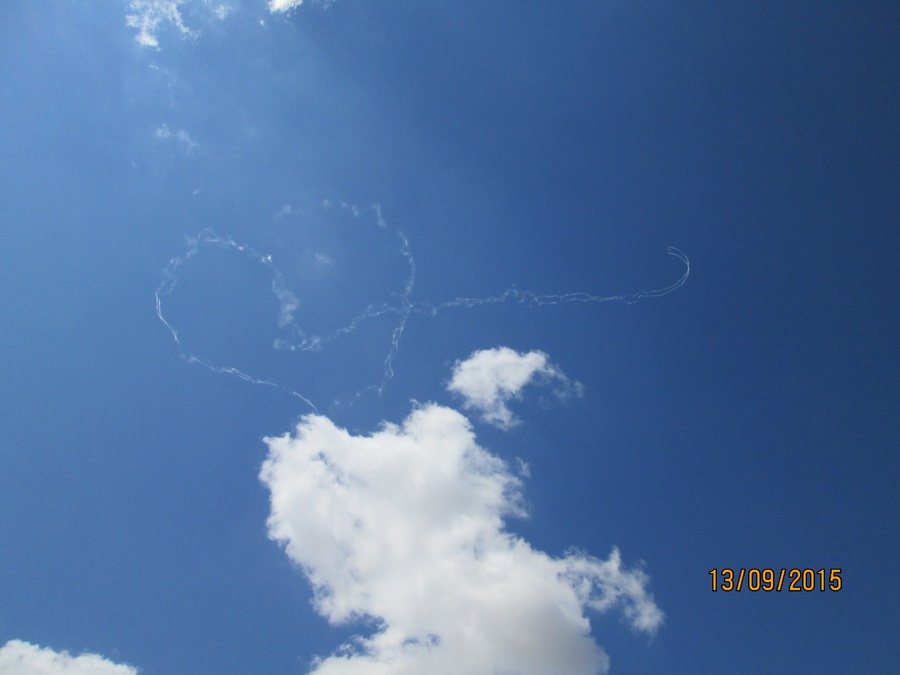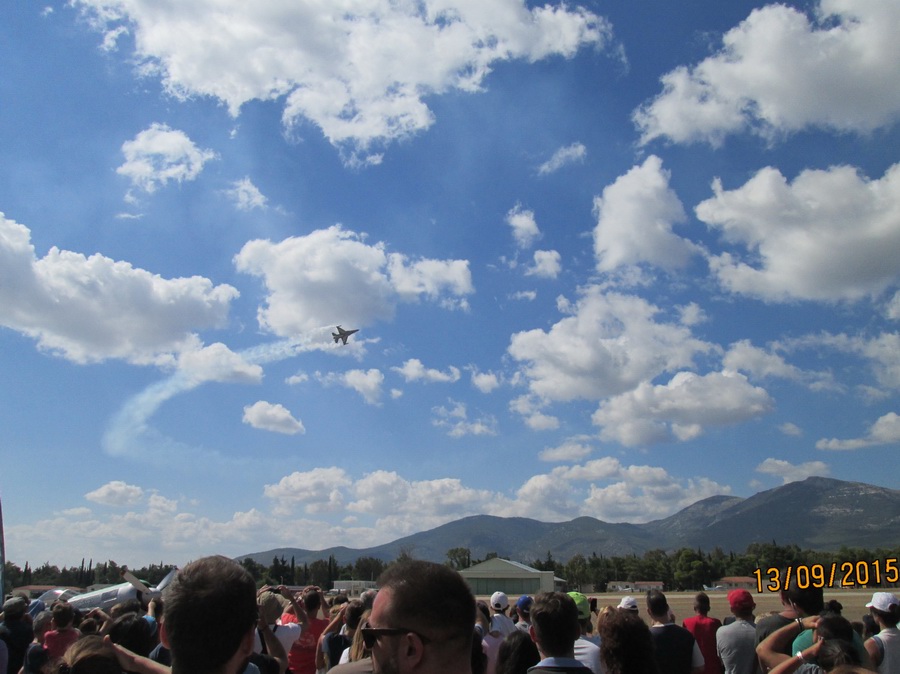 In the evening our friend had to catch his plane to Belgium again and next day we would fly to Megara (because of the people we met at the airshow) and Zakynthos (because it has the most beautiful beaches)
Leg 4&5 – 14.09.2015 – Athens (LGAV) to Megara (LGMG) to Zakynthos (LGZA) – 50 + 154NM
We departed early in Athens with again an excellent service from our handling agent. Also the airport fee was less than expected (even less than Split) and until now I still haven't received any extra bill. Let us keep it that way.
Athens LGAV: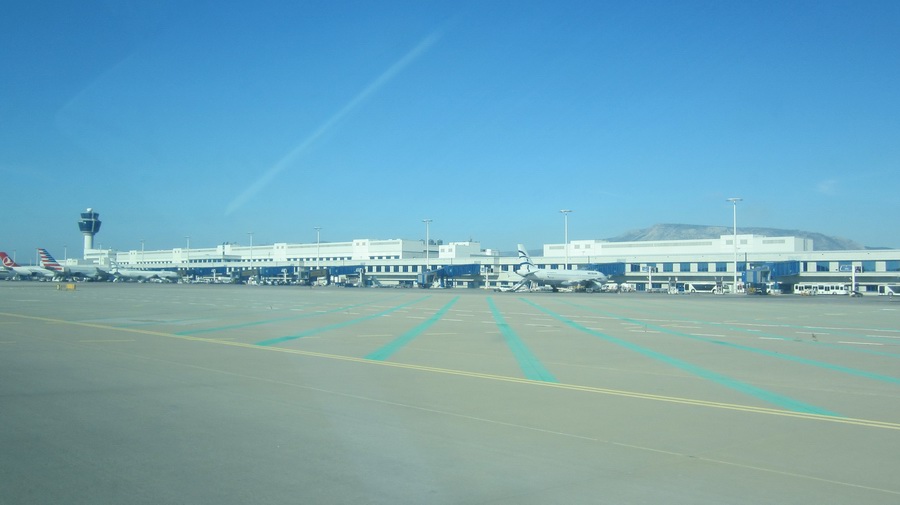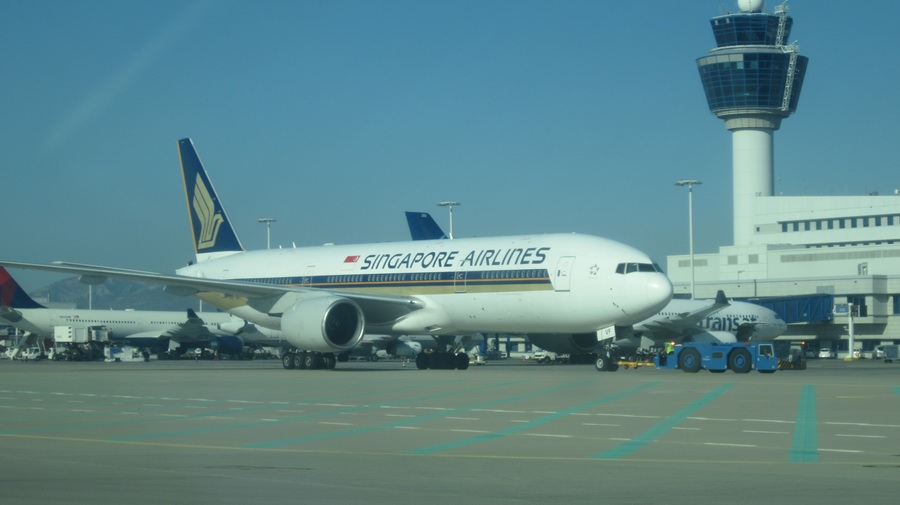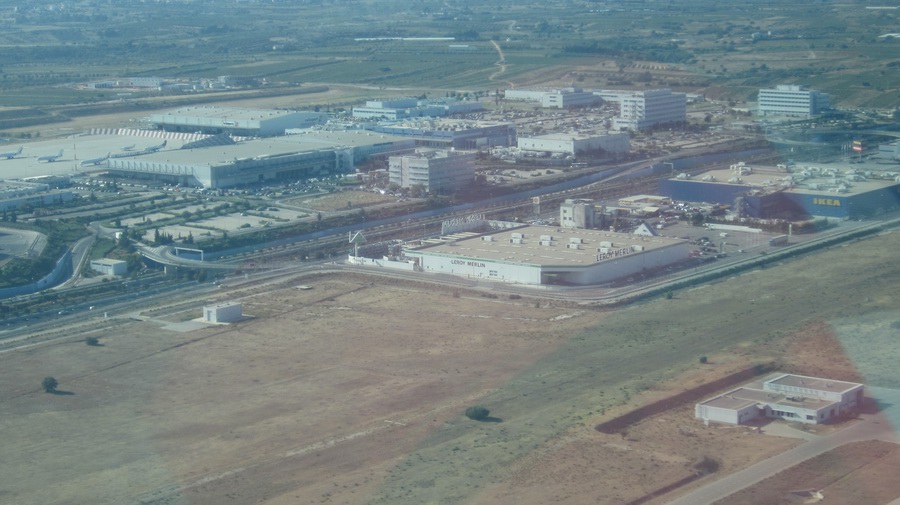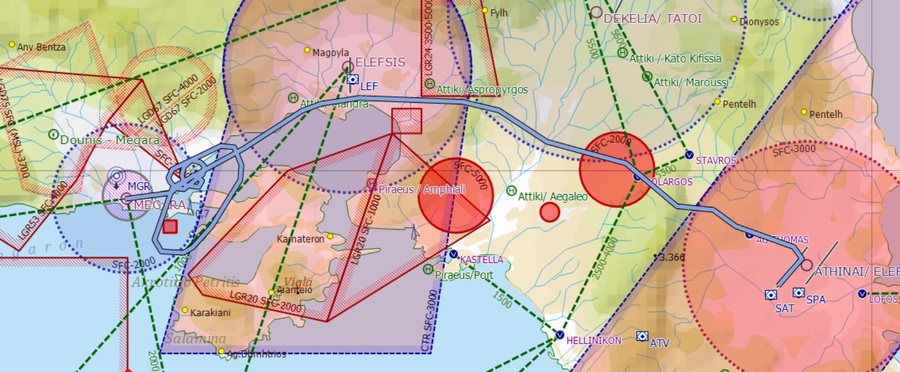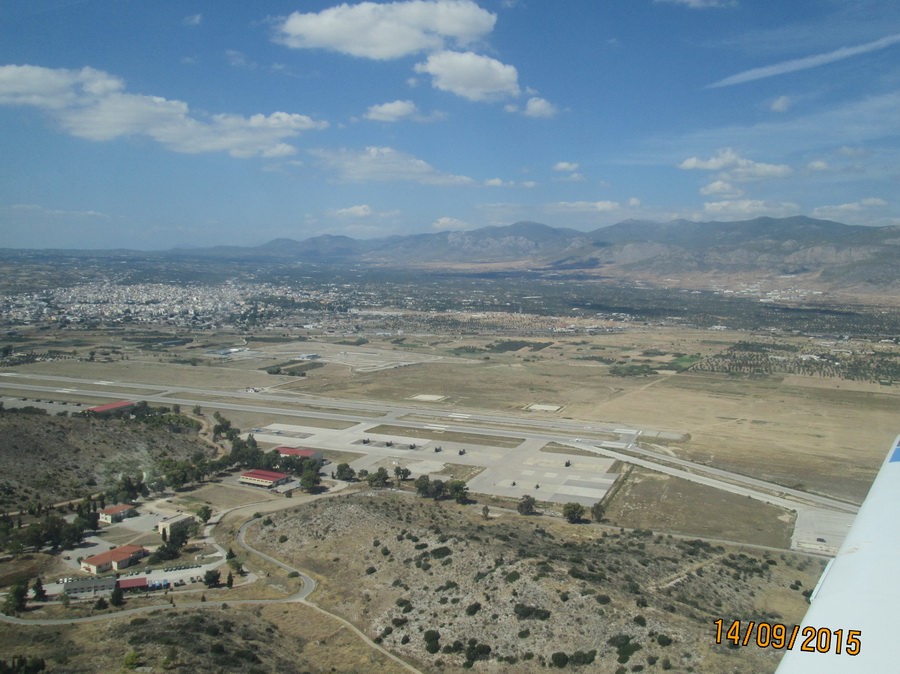 We headed to Megara, a short flight, and also we noticed a few moments after departure, a loss of GPS-signal. First on GNS and a minute or two after that, also on IPAD. We headed further to Megara and landed there, to meet a few people from the airshow the day before. We also bought some extra oil for the rest of our trip and at noon we took off for Zakynthos Airport.
Megara: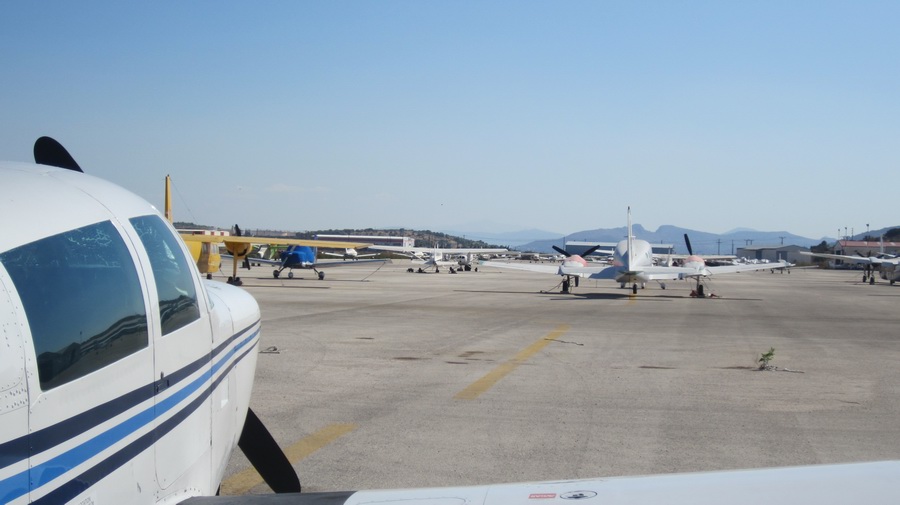 Right after departure I noticed the light of my landing gear was still red (longer than normal) and I asked for a fly by to check my gear – but it was pulled up, and the light went out after a few moments. The rest of the flight to Zakynthos was uneventful.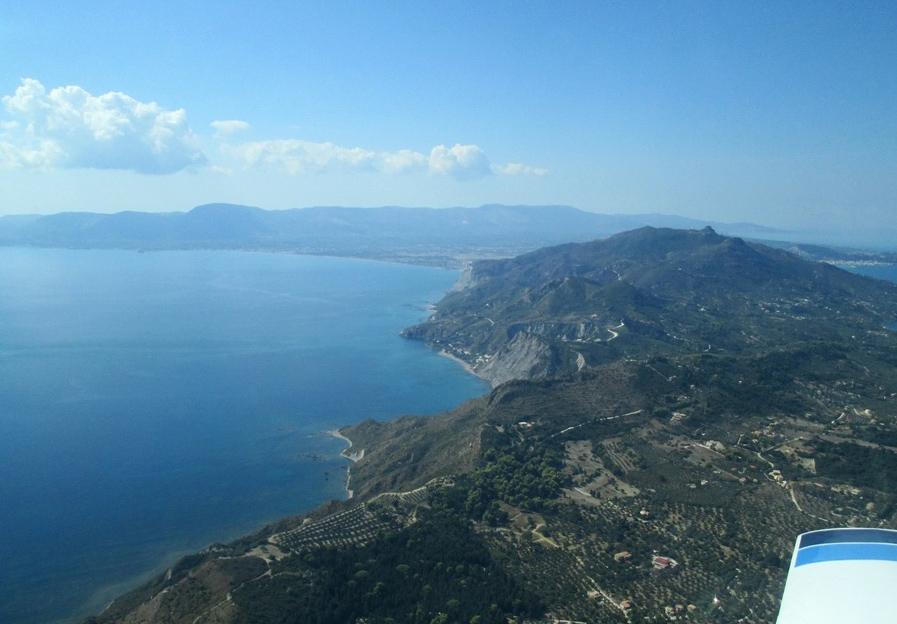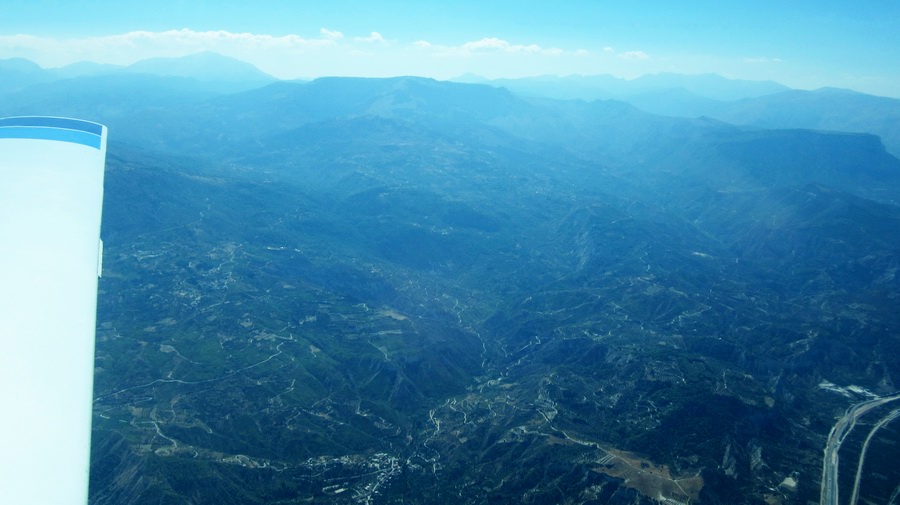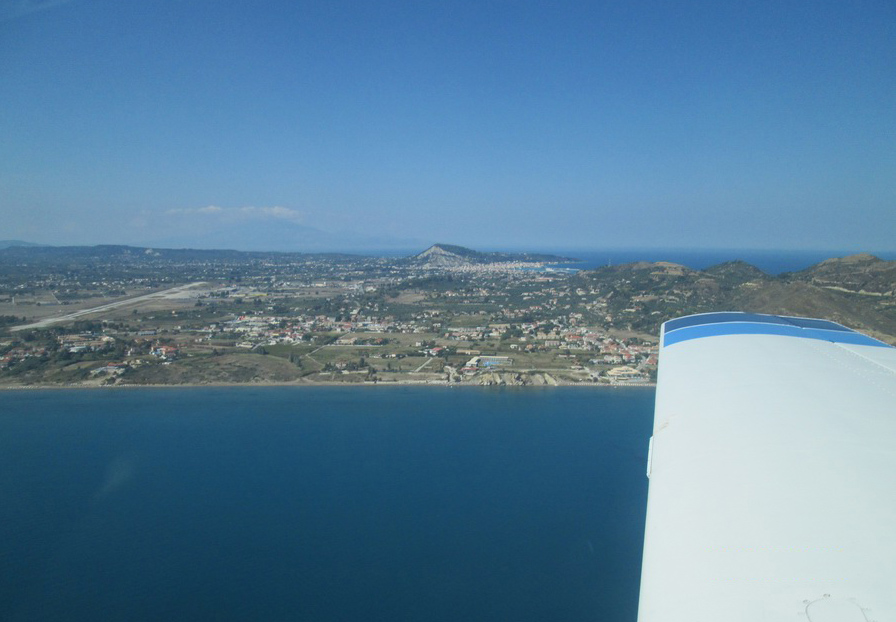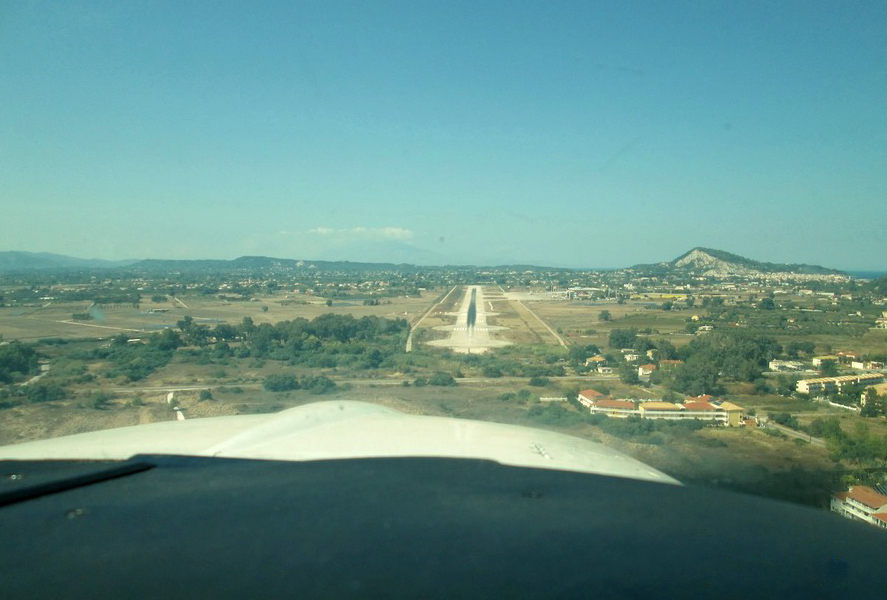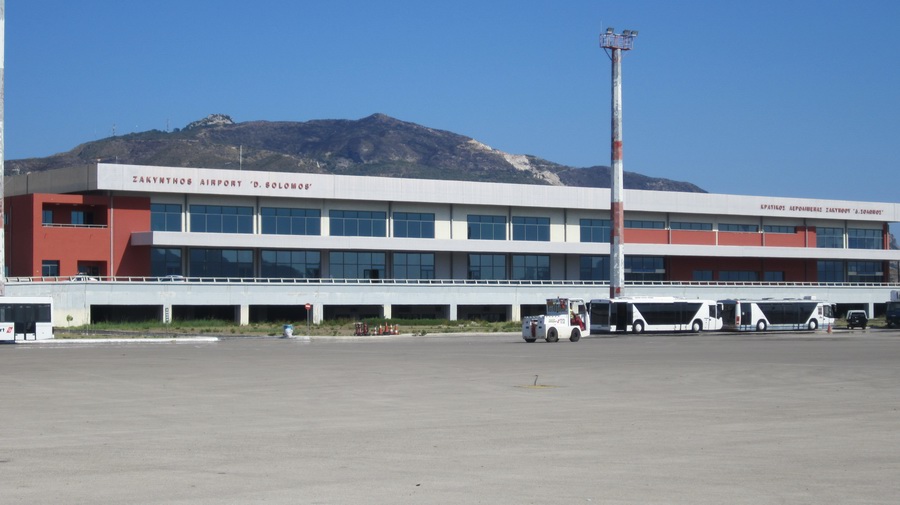 We booked a nice hotel, rented a car and in the evening we had even a Greek Night at our hotel with dancing and a BBQ.
The next day we would make two boat trips, one to Turtle Island and one to Shipwreck Beach, of course completed with a nice swim.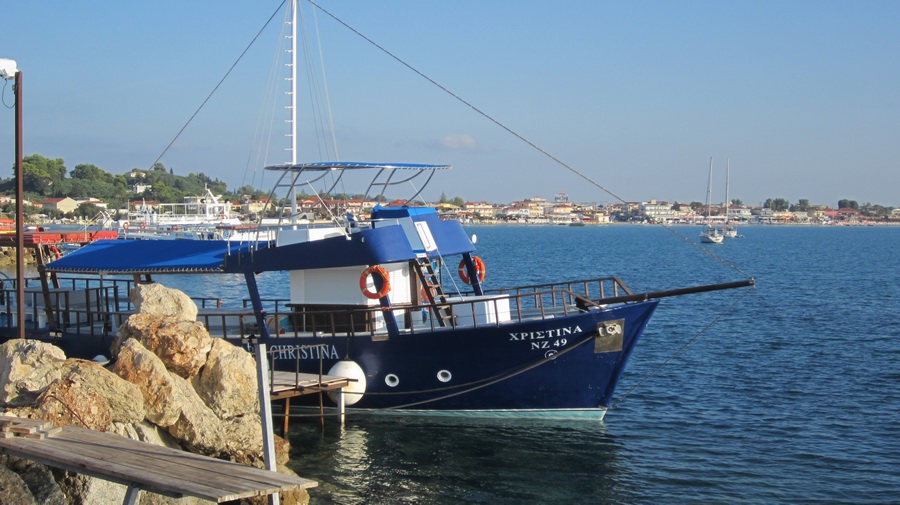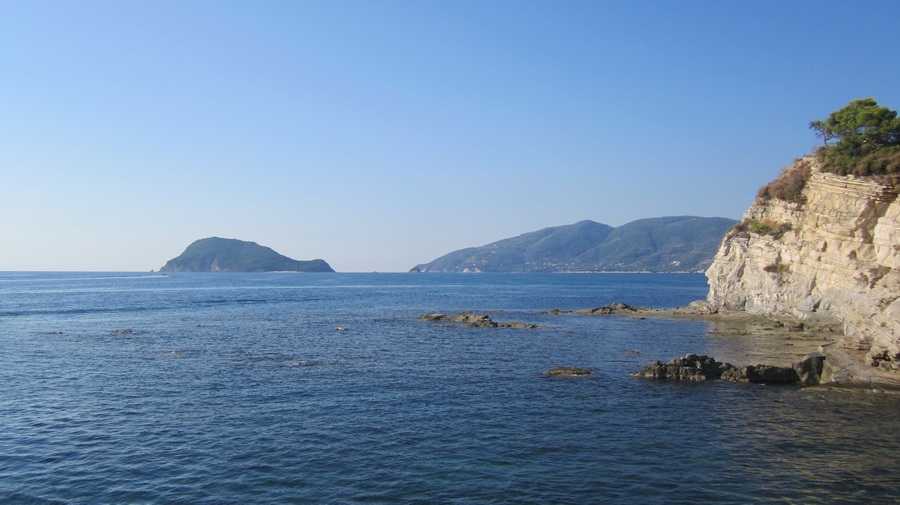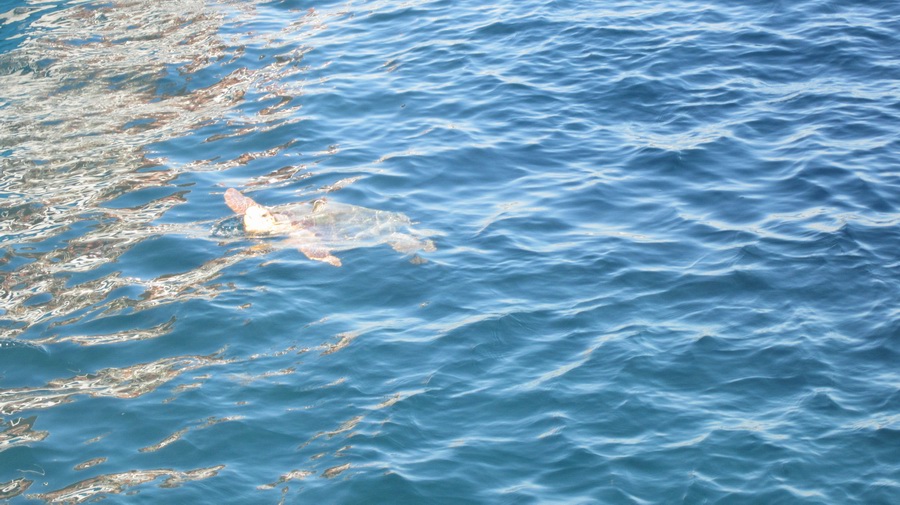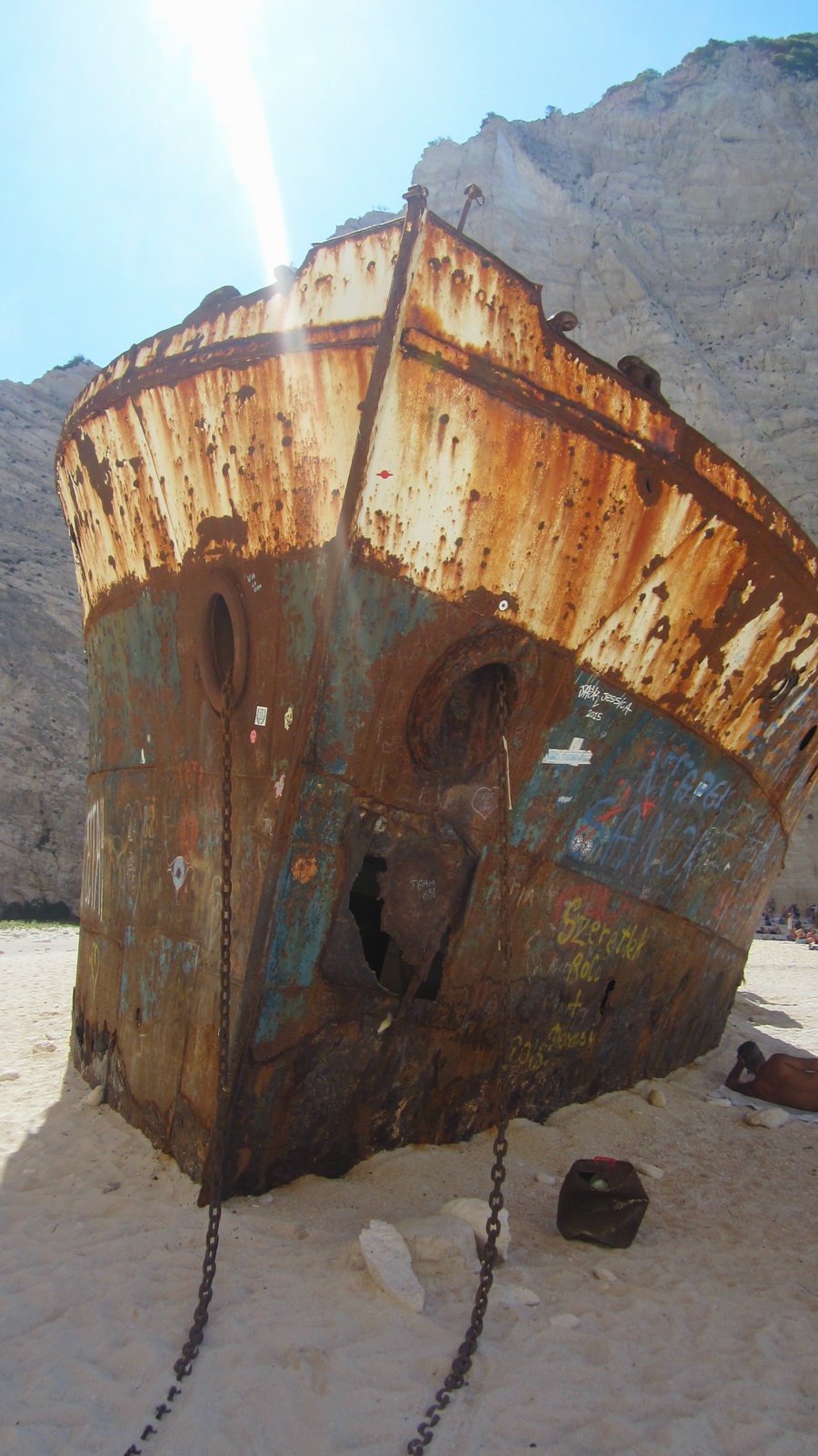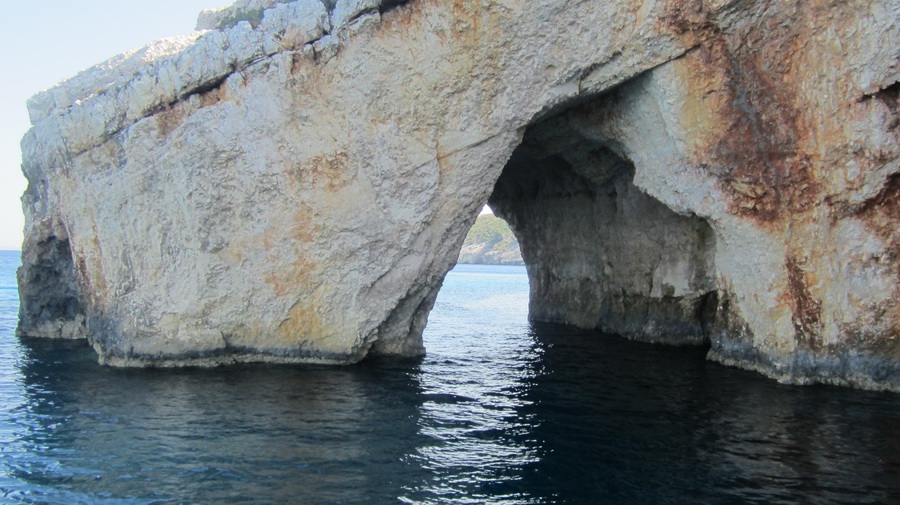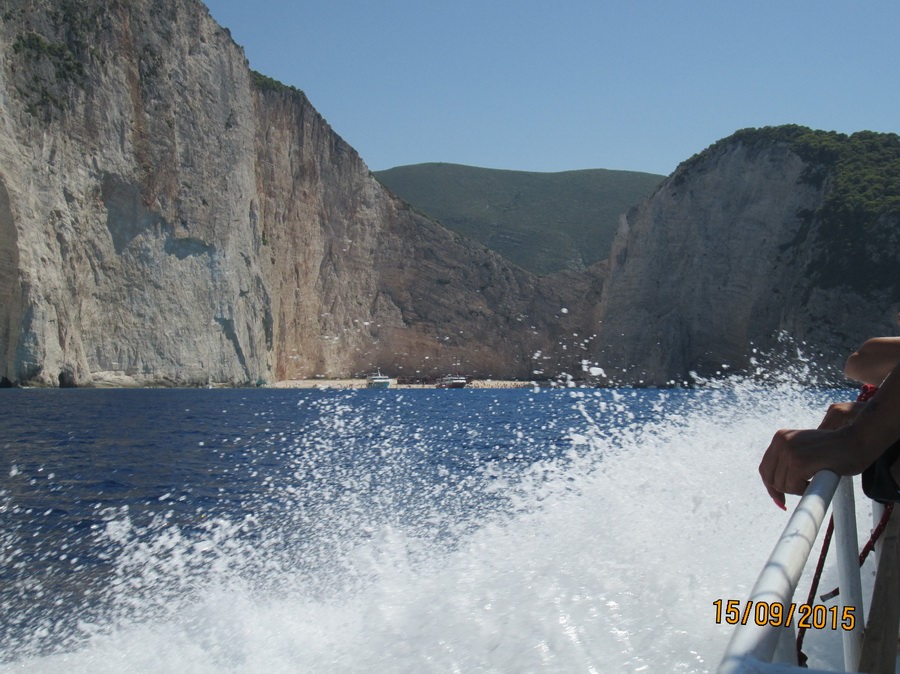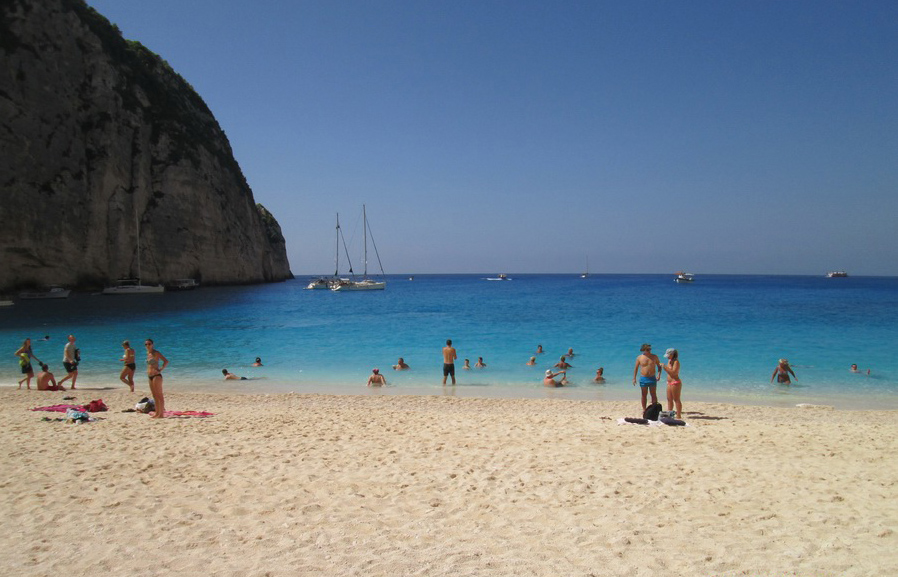 In the evening we went back to the airport because we would fuel up our plane with AVGAS offered by the local flying club (on the Airshow). Normally there is no AVGAS available on Zakynthos. In the evening of that day we also got confirmation by Sabiha (LTFJ) I could get a parking place for 3 days instead of 2, so I could actually fly to Istanbul itself!
Leg 6&7 – 16.09.2015 – Zakynthos (LGZA) to Samos (LGSM) to Istanbul (LTFJ) – 321 + 297NM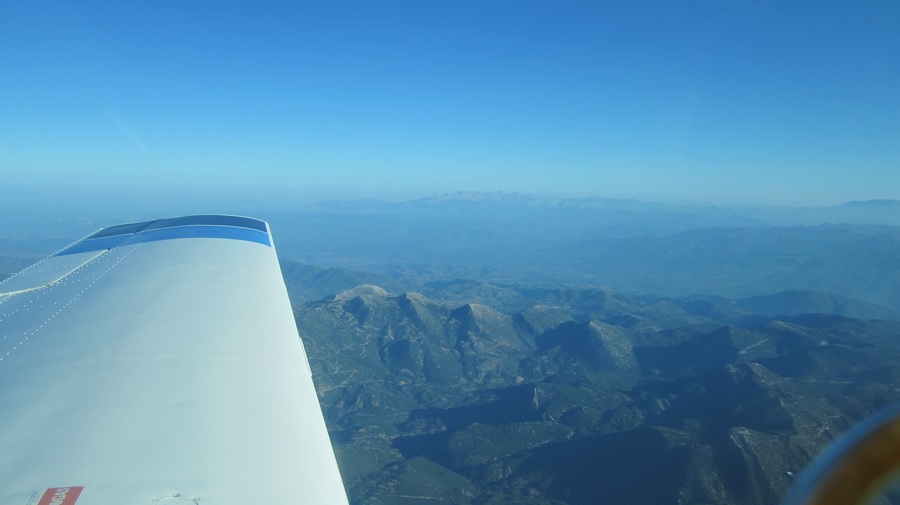 In the morning I had to go to the tower for my flightplan although I filed it already online. They even received it, but on their paper, they did not receive the second part of the flightplan (aircraft colors, life jackets, …) and they wanted me to write my flightplan again on paper. (also in Corfu and Samos it would be like this)
We departed early this day because it would be a long flight with a fuel stop in Samos. We got a few nice shortcuts overland and were heading to the Greek Sea with it beautiful islands. In Samos there was a lot of crosswind and bumpy because of the temperature. It was not my most beautiful landing, but it was a safe one.
Samos: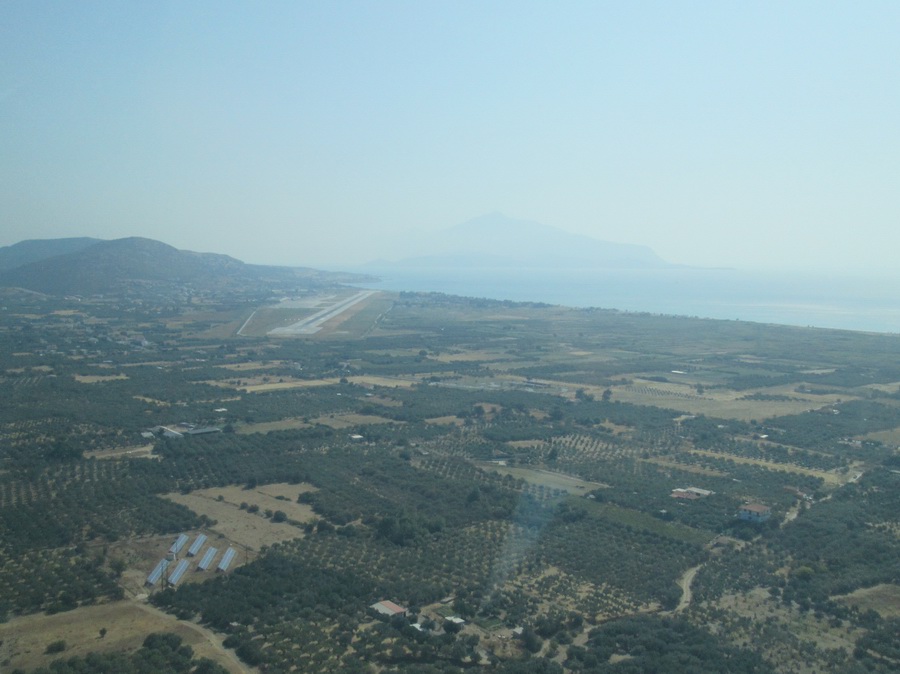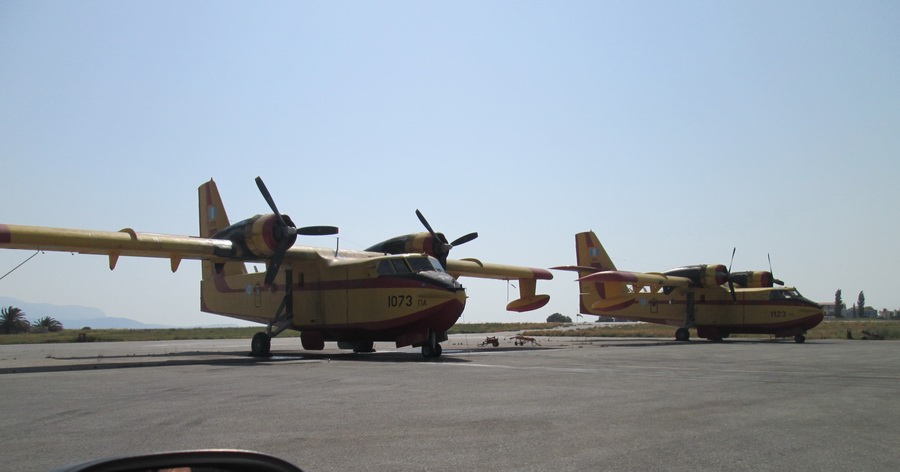 The weeks before our trip we heard a lot of stories about flying to Turkey. (They would not communicate and there would be a moment you had to be in contact with both the ATC before you could enter the Turkish Airspace,… ) But nothing of this was true. We stayed with Samos and got a nice, smoothless handover to Turkey.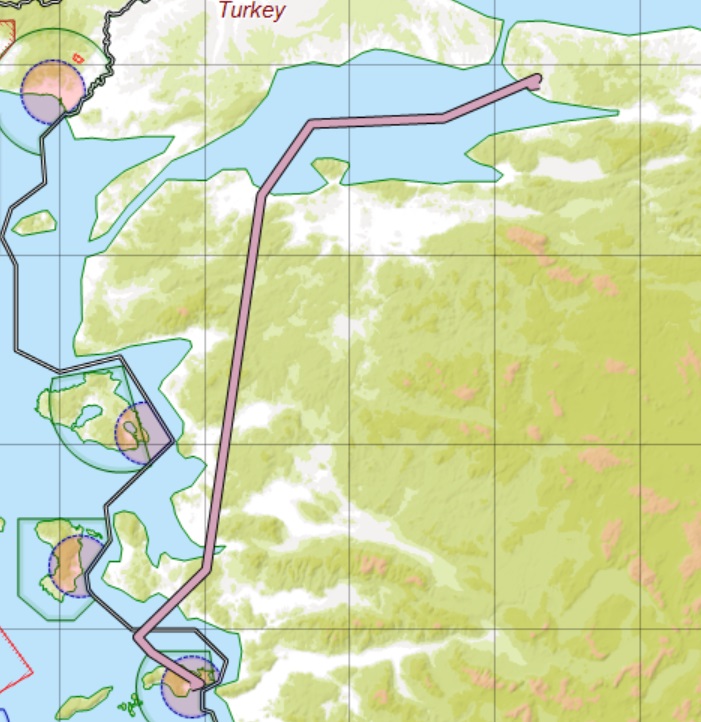 In Turkey we could fly our filed routing and everything went fine. Before reaching Istanbul, we were flying the low VFR routings over the sea. There was a lot, but I mean really a lot, communication on the radio. They knew our routing and also they didn't talk to us anymore after starting the low VFR routes. We noticed they had informed Sabiha already and we were on their scope, because the moment after we contacted Sabiha (the radio-contact with the other service was bad quality and we couldn't reach them anymore for a frequency change), they sent us to lefthand downwind, base and we got a landing clearance.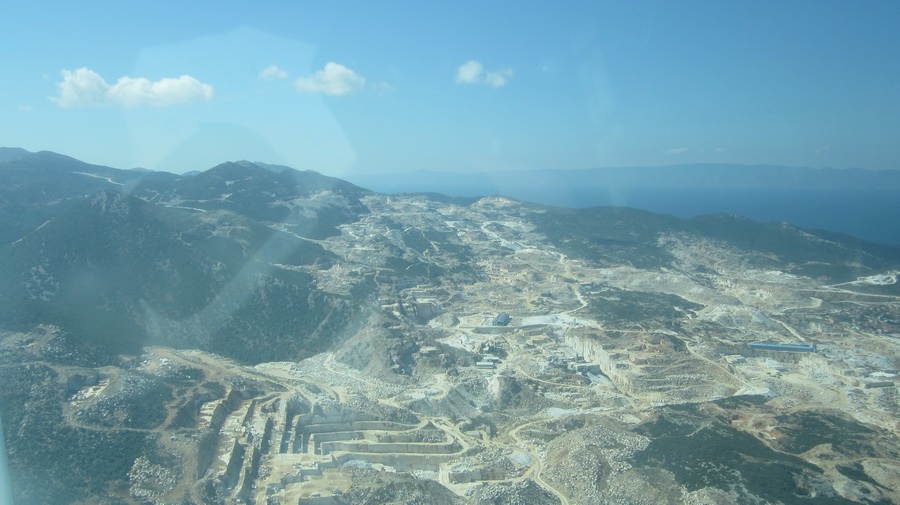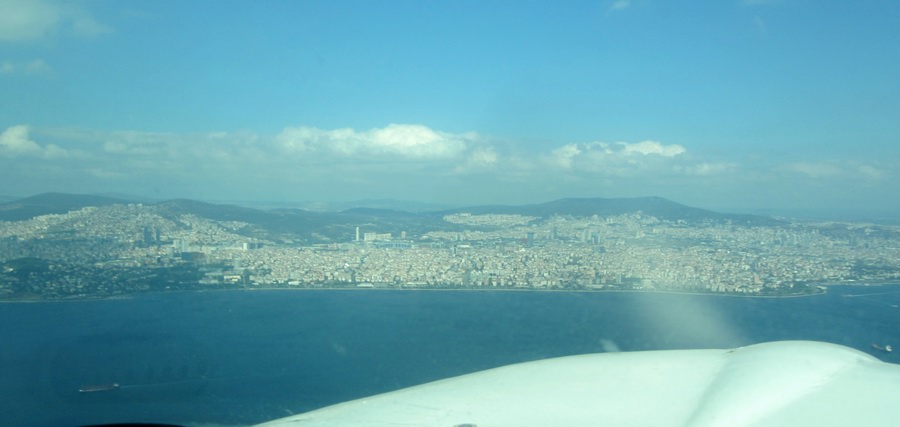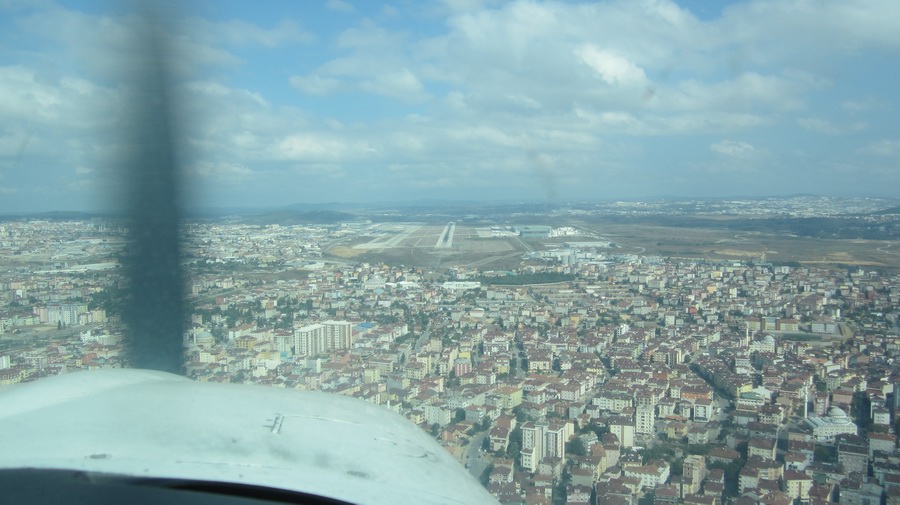 We were not parked on the sports apron, but on a General Aviation apron between al the private jets. The handling service was very smooth and soon we were on our way to Istanbul.
The next day we used for visiting a lot of beautiful places.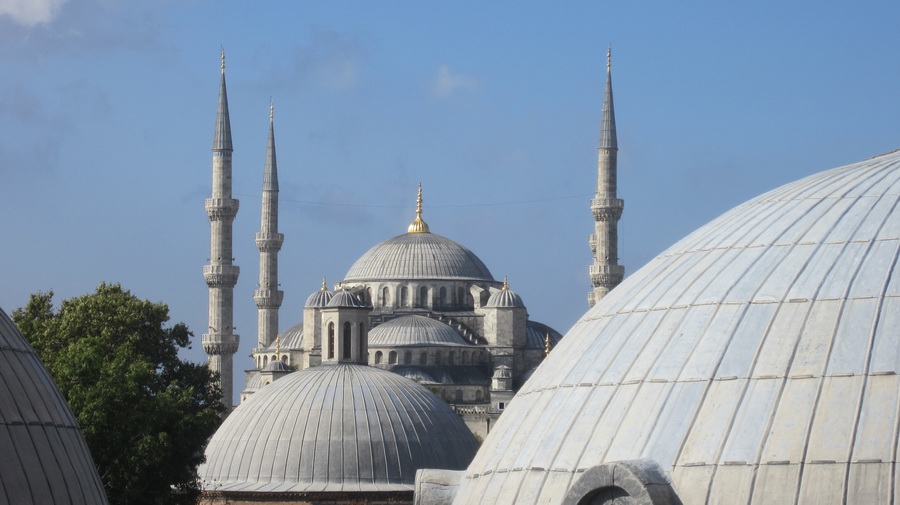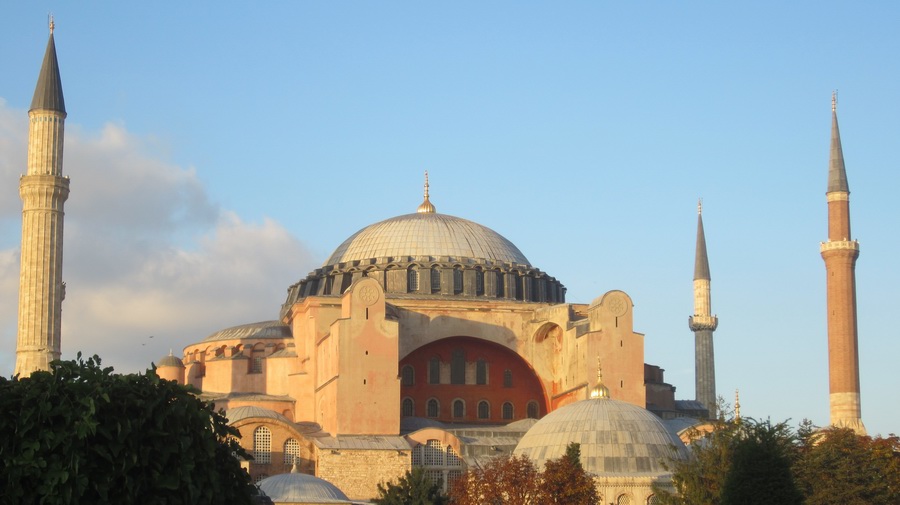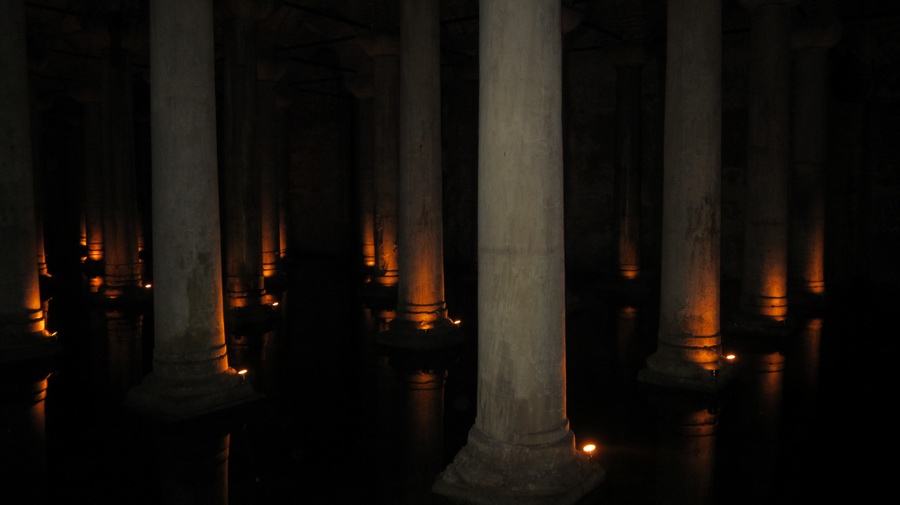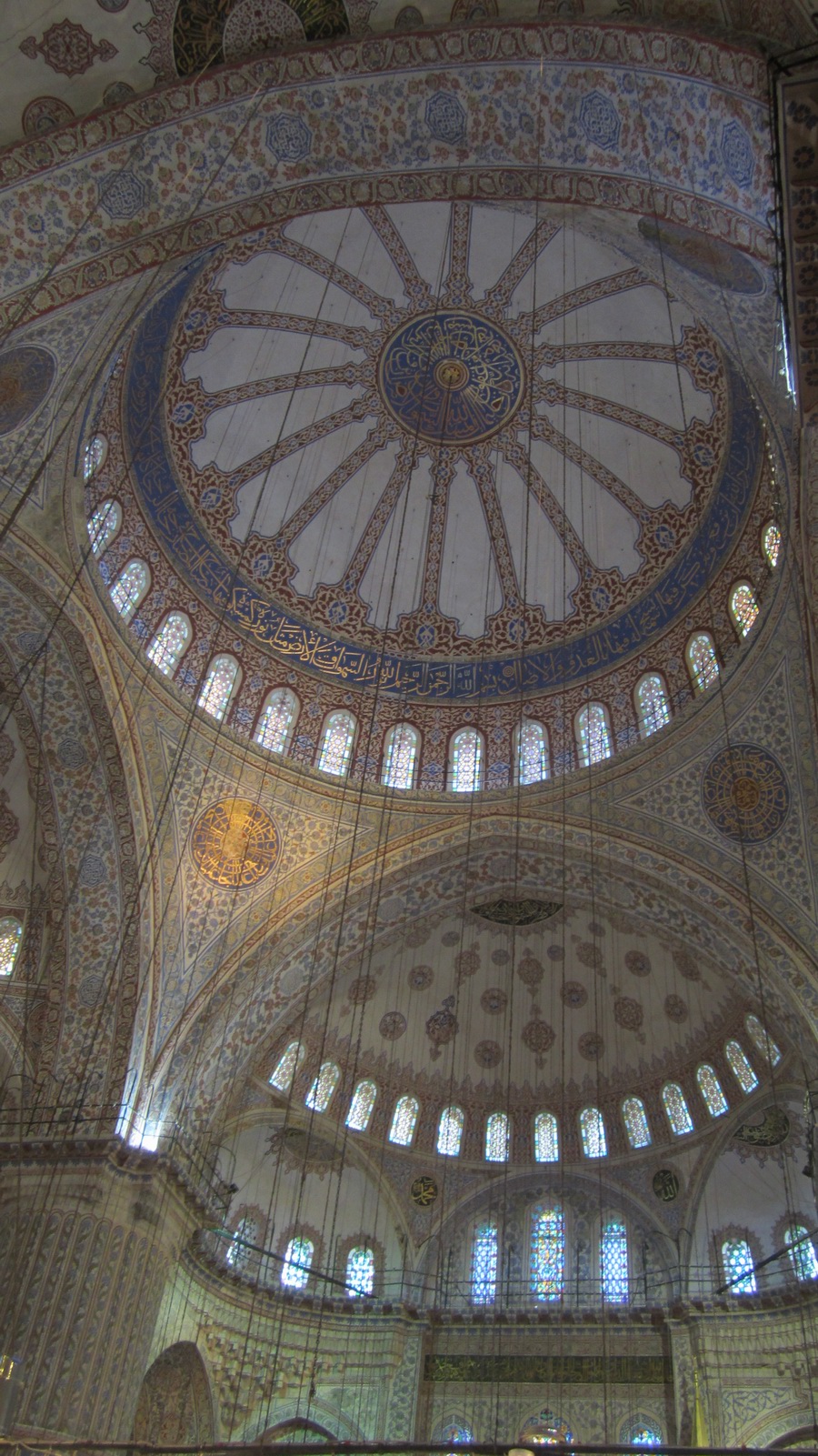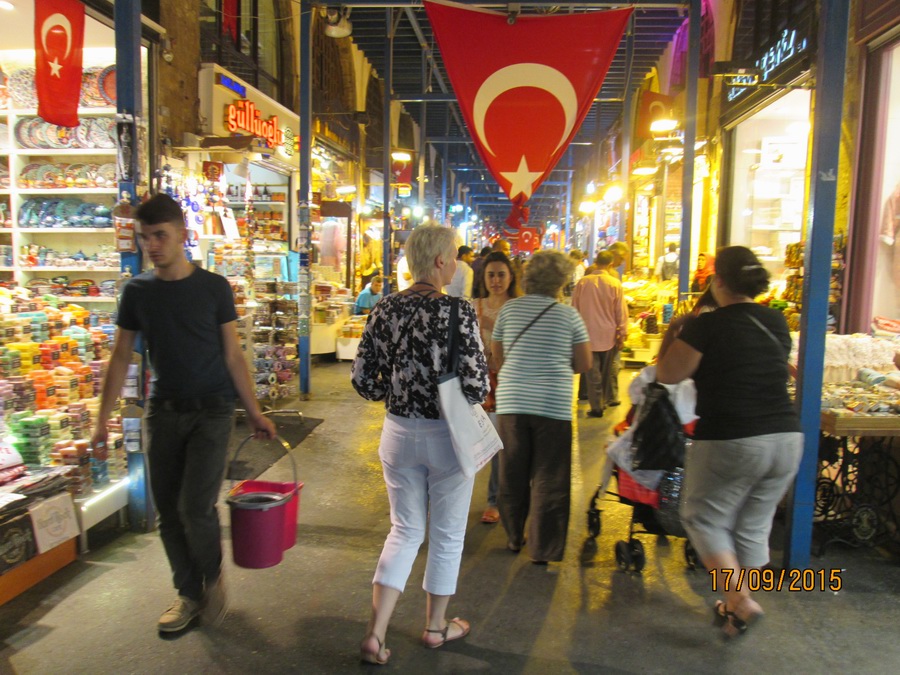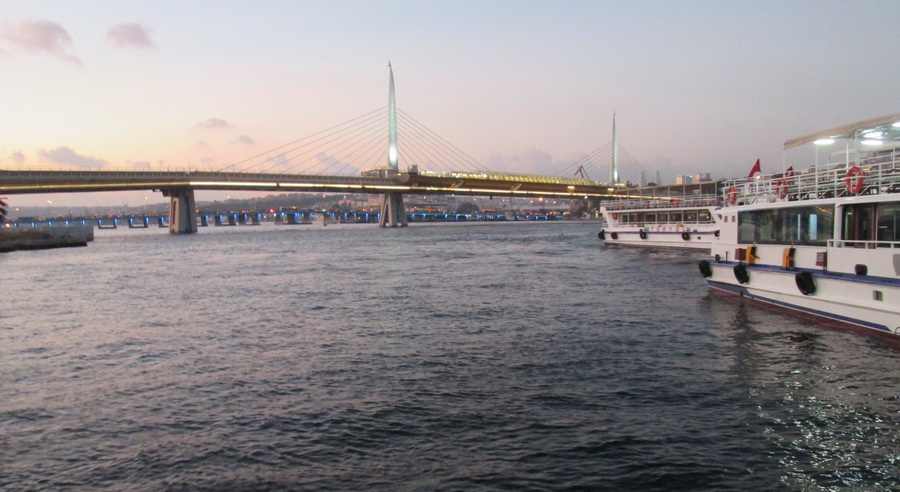 Leg 8&9 – 19.09.2015 – Istanbul (LTFJ) to Corlu (LTBU) to Corfu (LGKR) – 395NM
Because on our way from Samos to Istanbul we had a lot of headwind I wanted to land for a fuel stop in Corlu (LTBU). Normally we should be able to reach Corfu on our remaining fuel, but we would not have enough for a possible diversion to Athens or Thessaloniki (Airports of Entry).
We noticed our handling agent and he would call his office there for arrangements. We also had to pay already the fee for the both together. (The fee of Corlu was even bigger than the one for Sabiha because I was not able to get a discount on such a short term, but safety is more important)
We started the engine and got taxi clearance. I think it was rush hour because there where about 6 or 7 big airplanes (don't ask me the type) before us and also a lot behind. A bit funny, with our small plane between all those big elephants.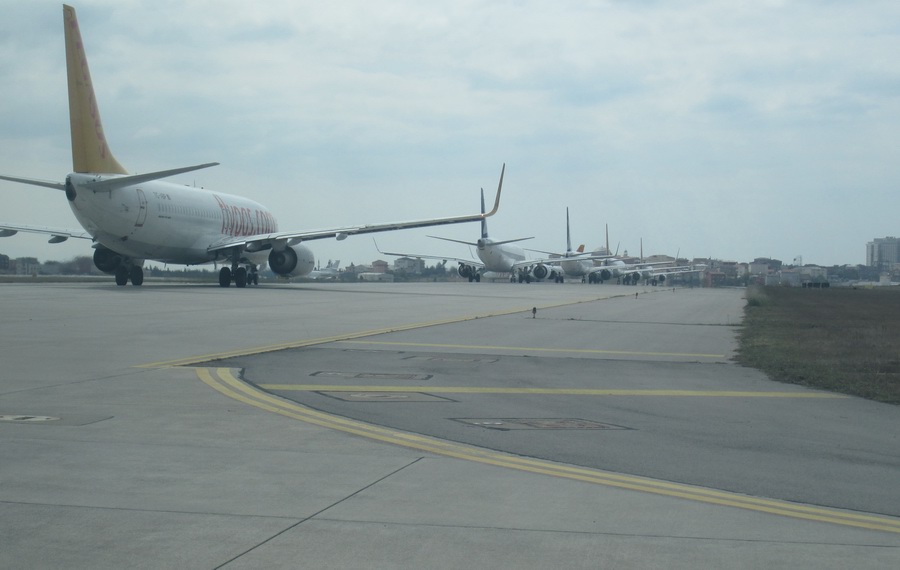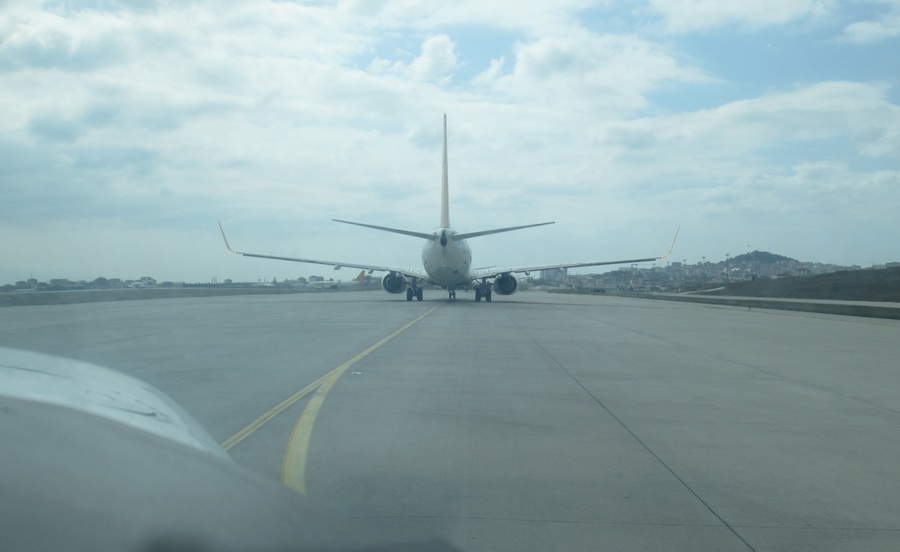 I thought to be smart and I asked for an intersection take off if It would help them. We were guided to the intersection and… let us wait for the 6 or 7 planes that were before us J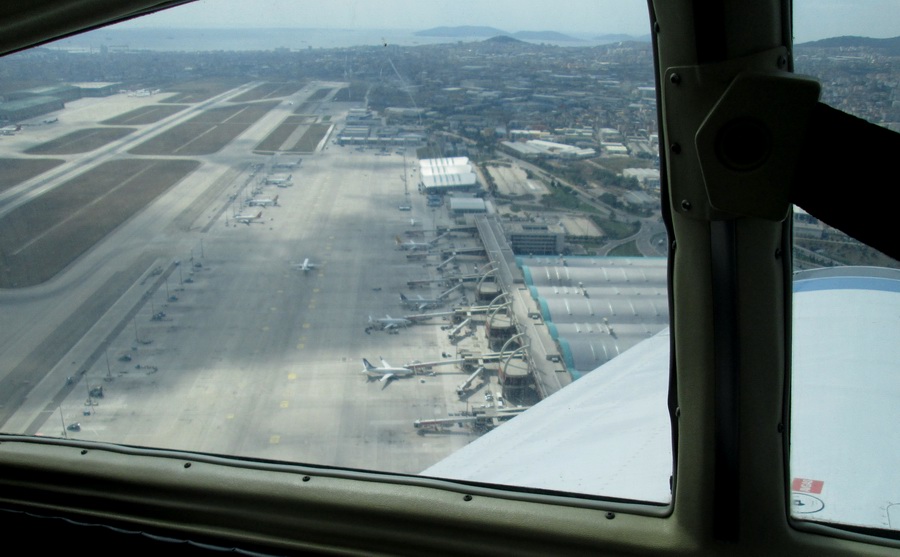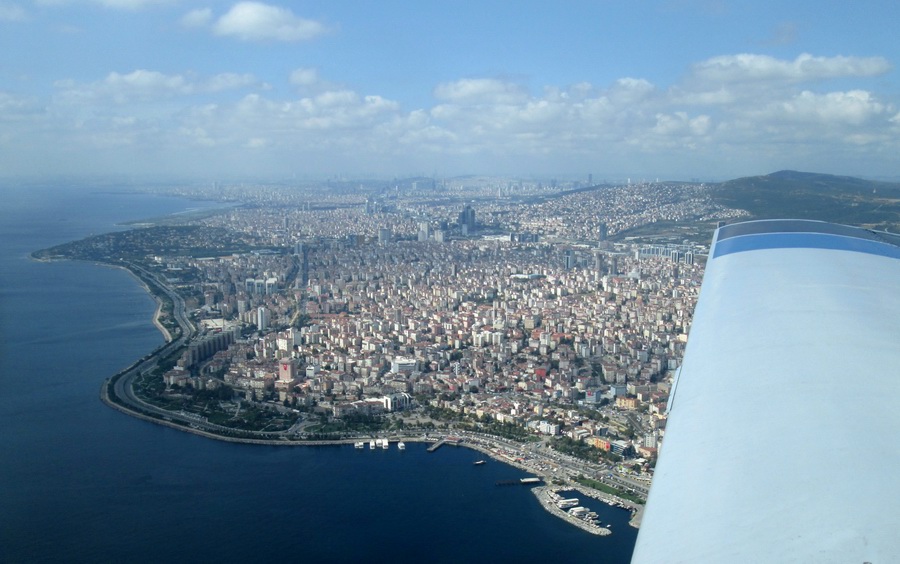 Finally we could line up and depart and we headed to Corlu, again a short flight without any problems. In Corlu we landed and asked already while taxiing for the fuel truck. We waited about 5 minutes and 2 people from the airport (Fireman) were coming to have a look (lucky one of them spoke English) and they decided to wait with us on the fuel truck. There came another 3 persons, but still no fuel truck and they called for us. After 45 minutes we finally got fuel and 10 minutes later, there came a bus from a handling company (not ours), who took us to the building. After they heard we had another company, they left and the friendly fireman, guided us through all the paper details. We haven't seen somebody of our own handling company (when we were home, we mailed them for their (no) service and got a total refund of the fees (including the airport fees)).
Corlu: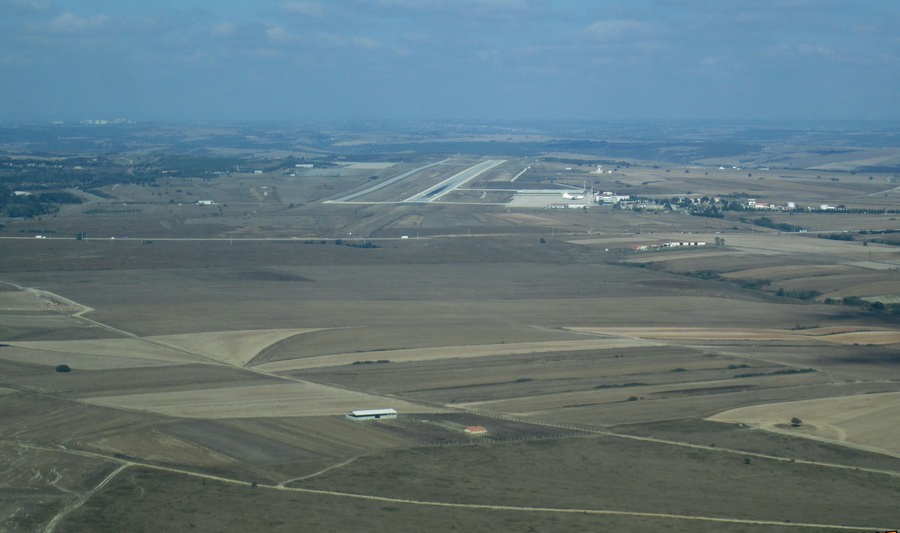 The fireman and other helpful people on Corlu: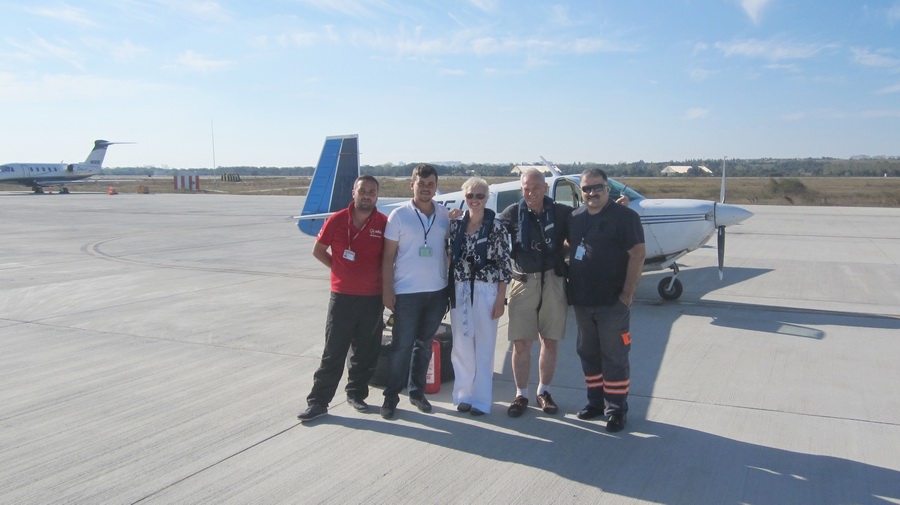 We could take off to Corfu and the rest of the flight was eventless with again a nice Greek scenery.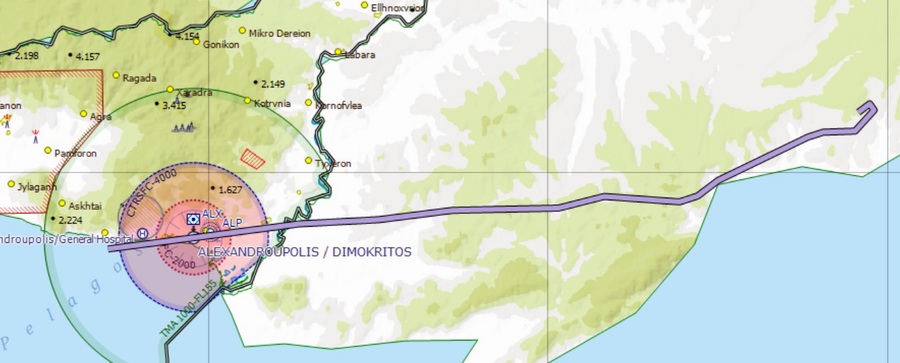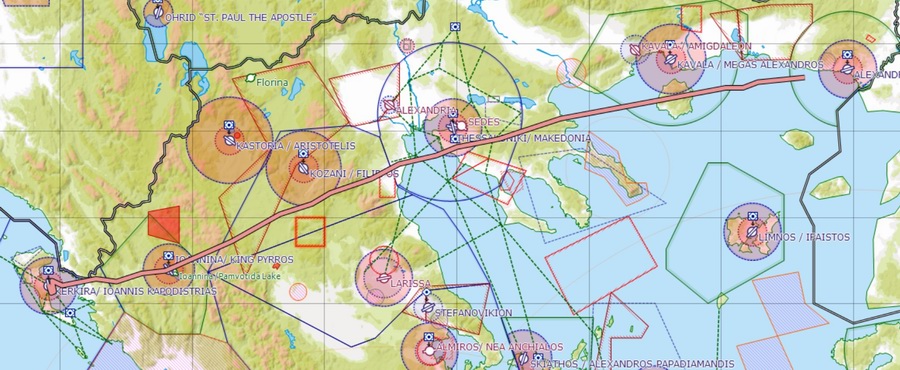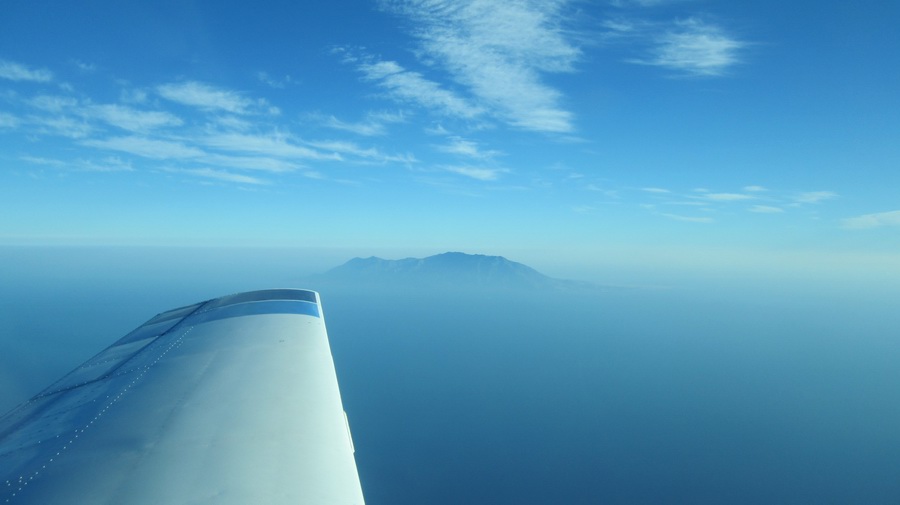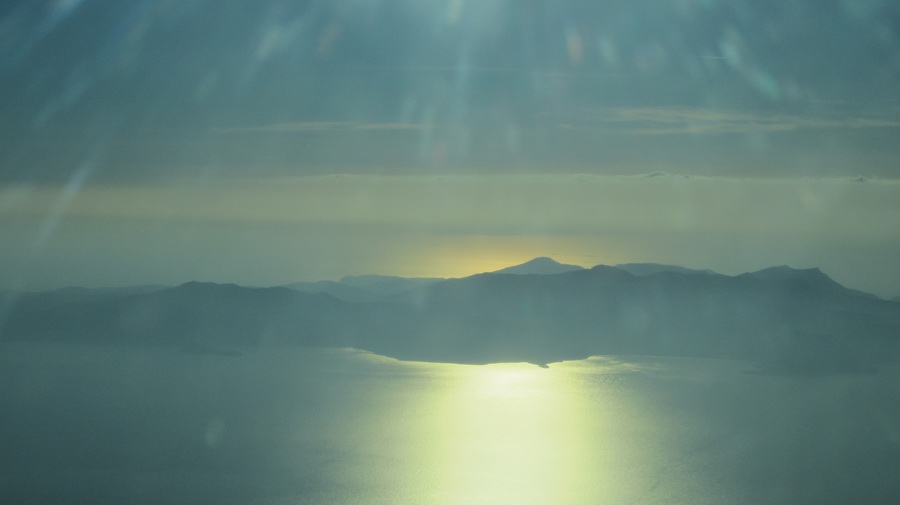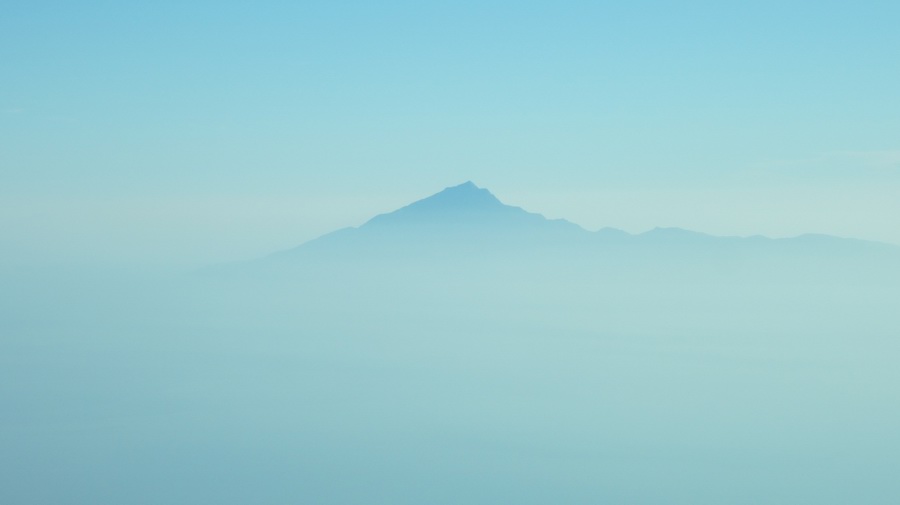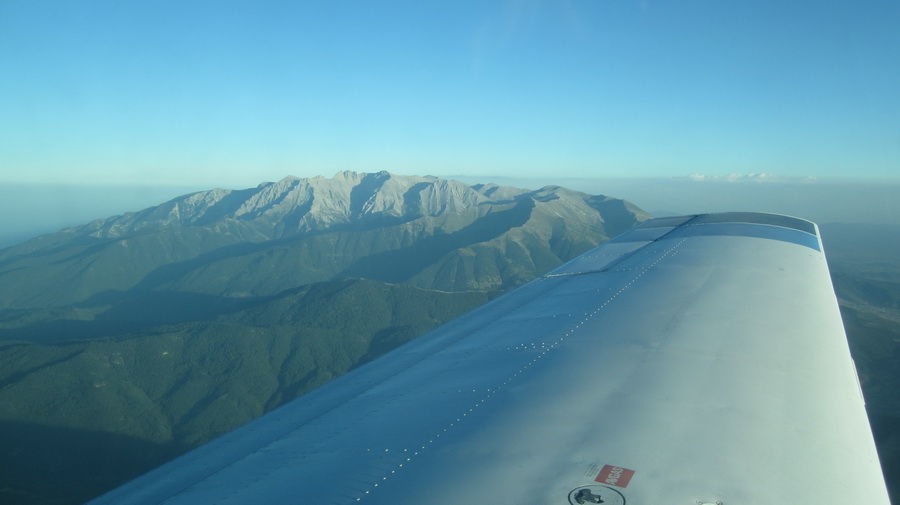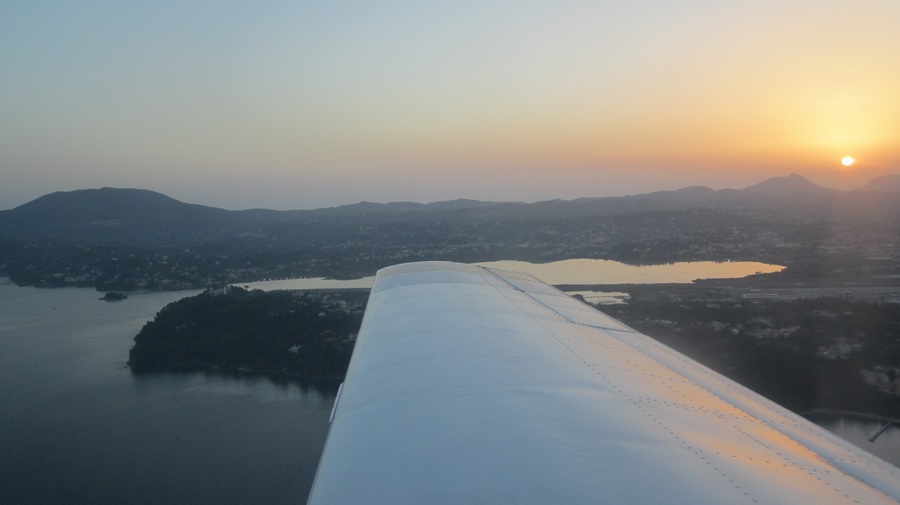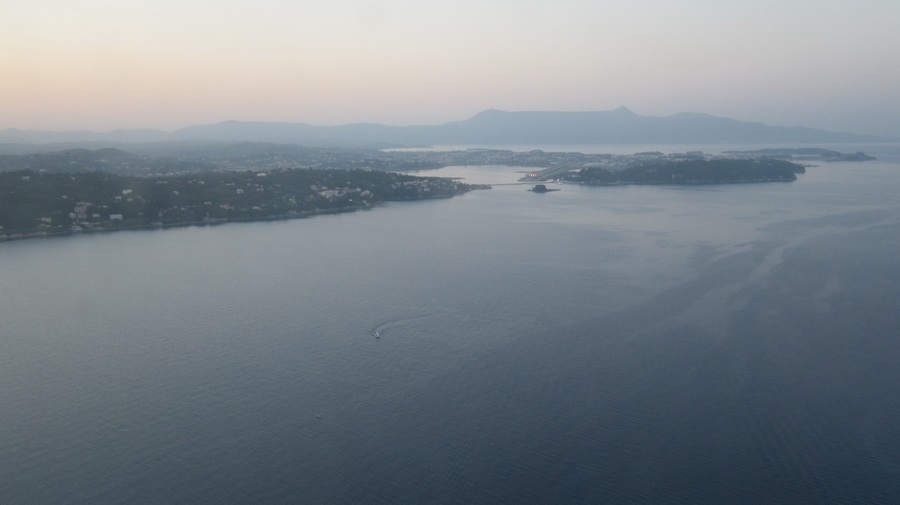 We would stay one day for visiting the Island and after we rented a car, we went for a swim and visited a few things. Again it was a beautiful warm day, but you could notice already the weather would change, it was too hot. And it did, during the night, a huge storm, with a loss of all electricity over whole the island.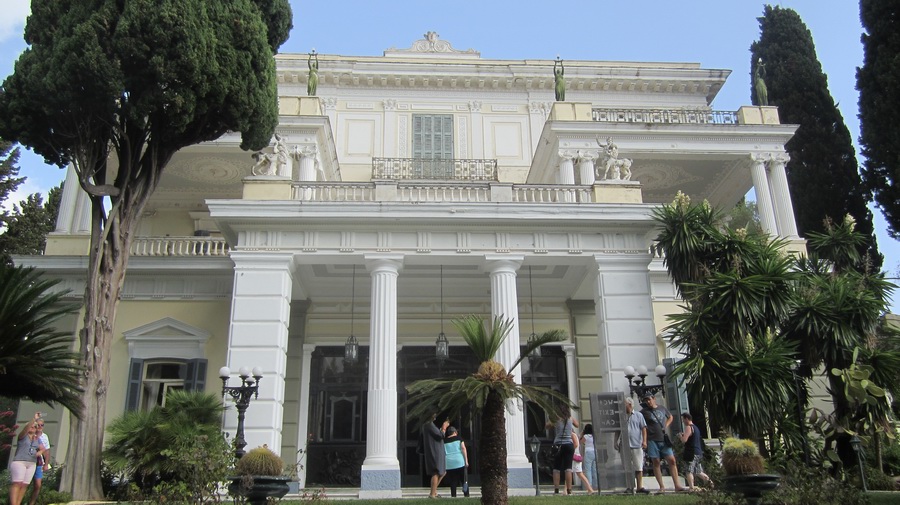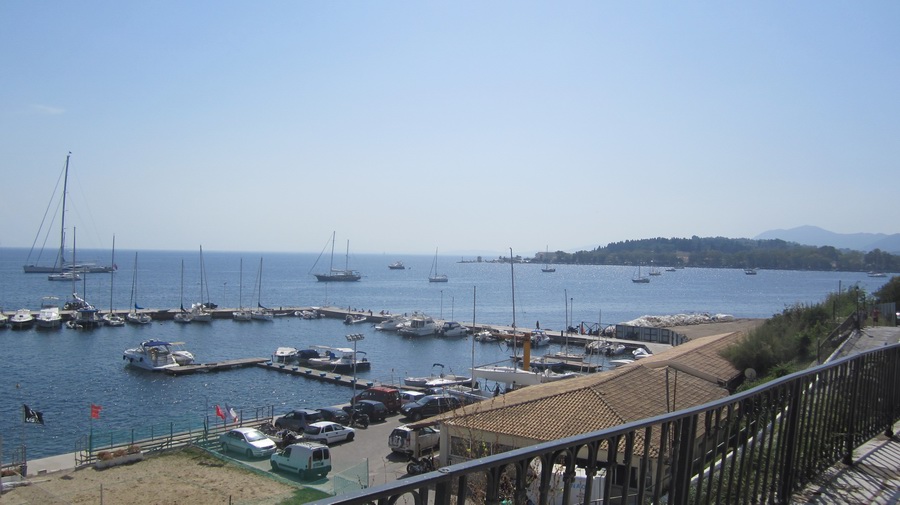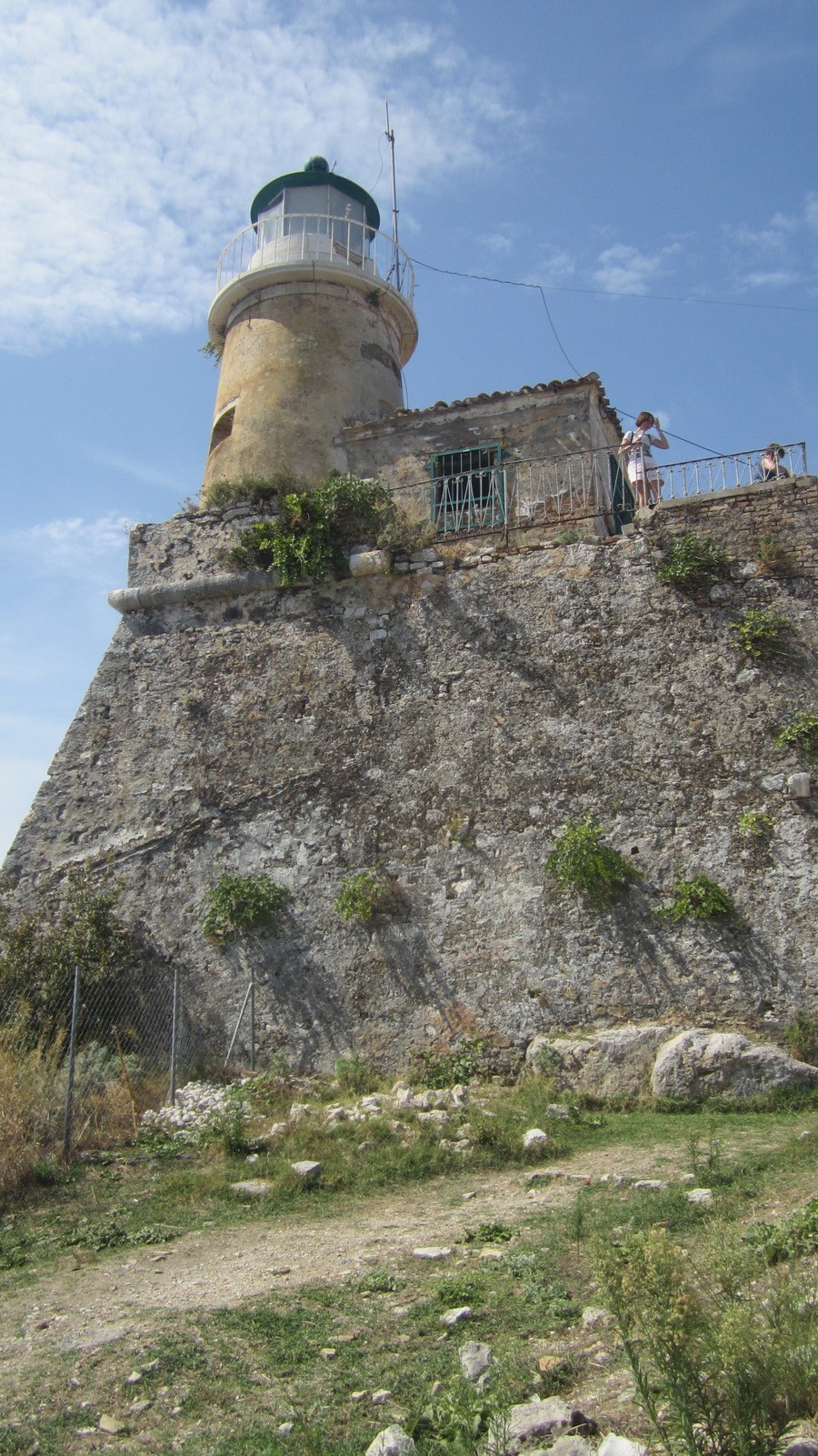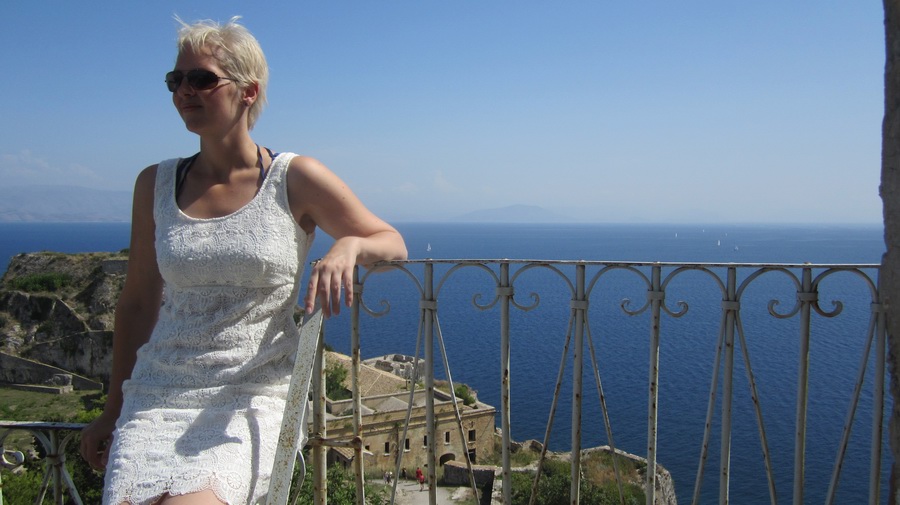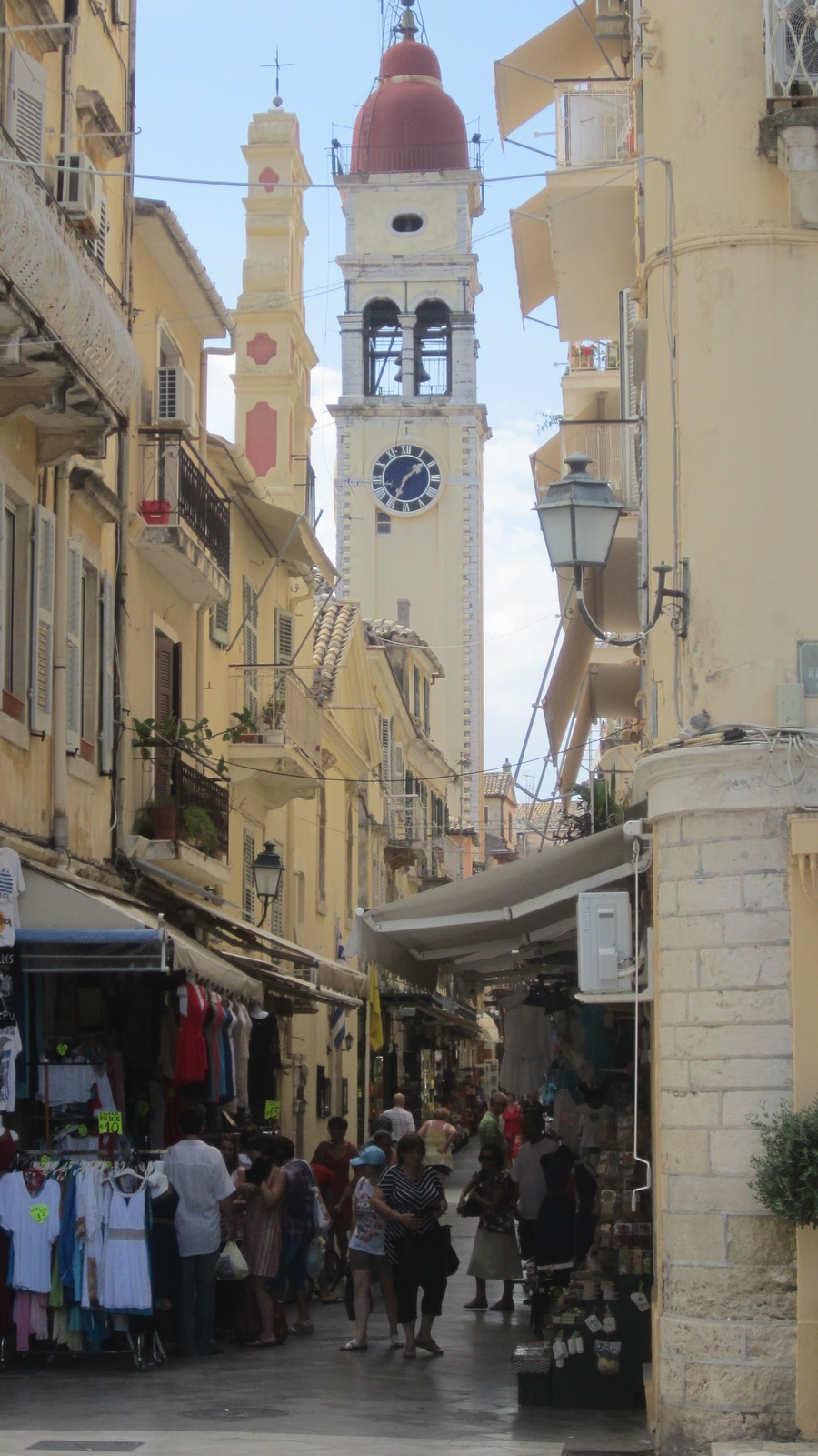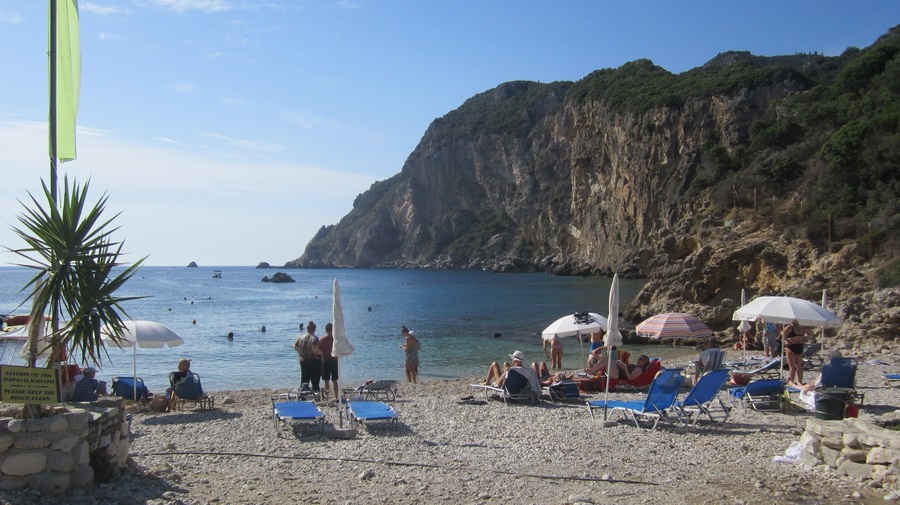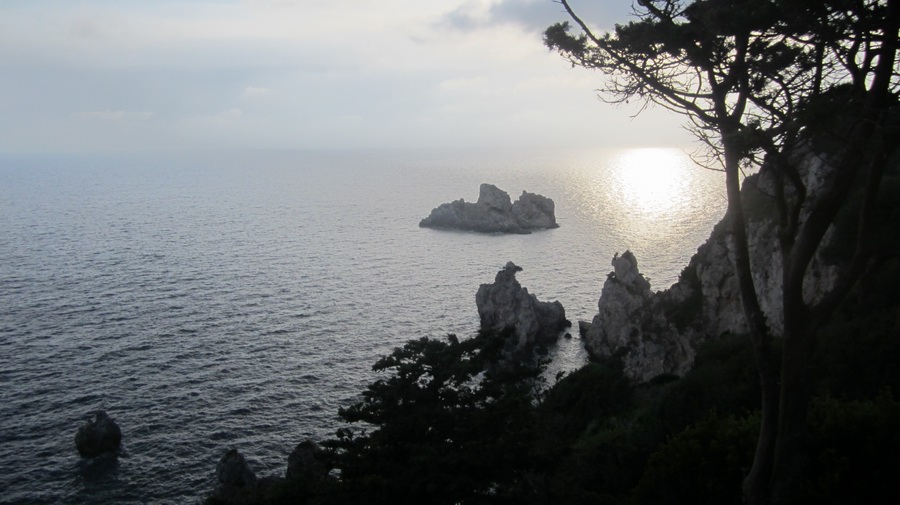 Leg 10 – 21.09.2015 – Corfu (LGKR) to Corsica (LFKC) – 606NM
The weather forecast predicted a front, coming from the West to the East over the heel of Italy/Corfu. But once we could get over, it would be nice weather. We had to leave early, because later the day also Corfu would be difficult to depart because of the oncoming weather. At the airport I went to the metoffice and the weatherman agreed with us: if we could avoid the front, it would be fine. We decided to depart and try to follow our intended routing, although the chance was big we had to make a new routing.
Corfu airport again: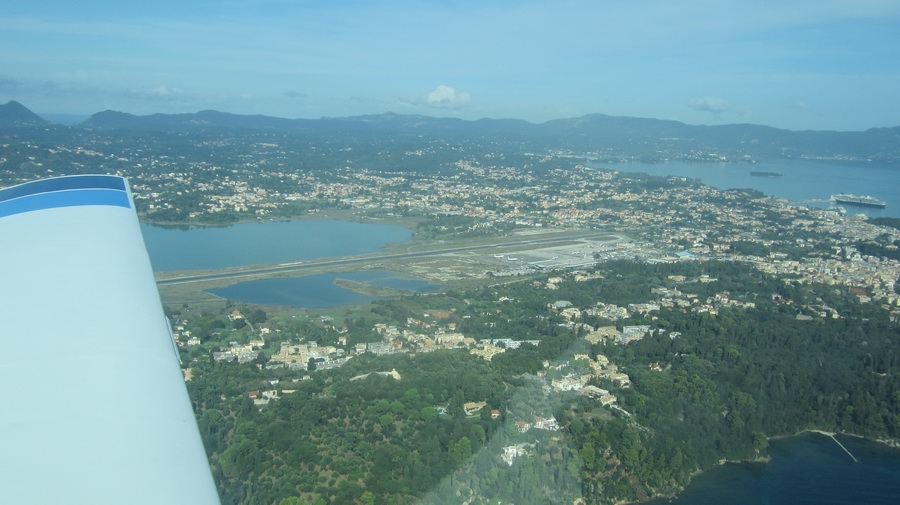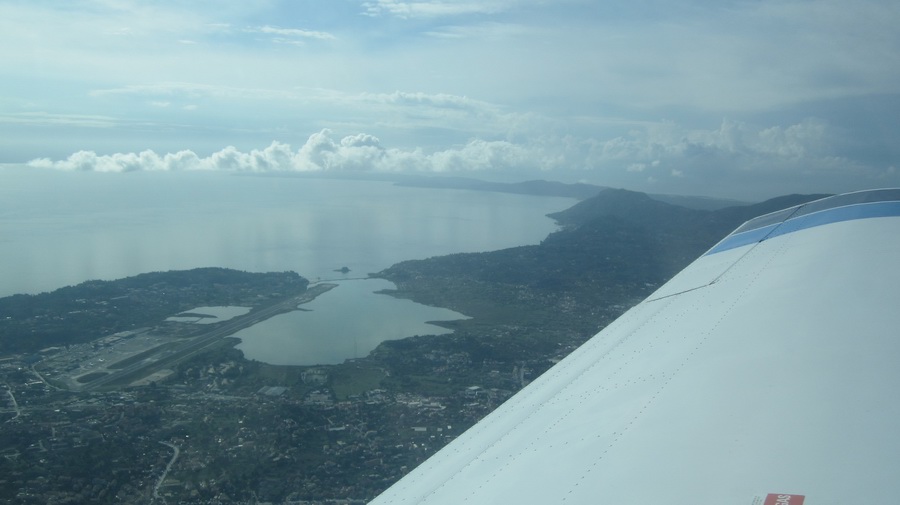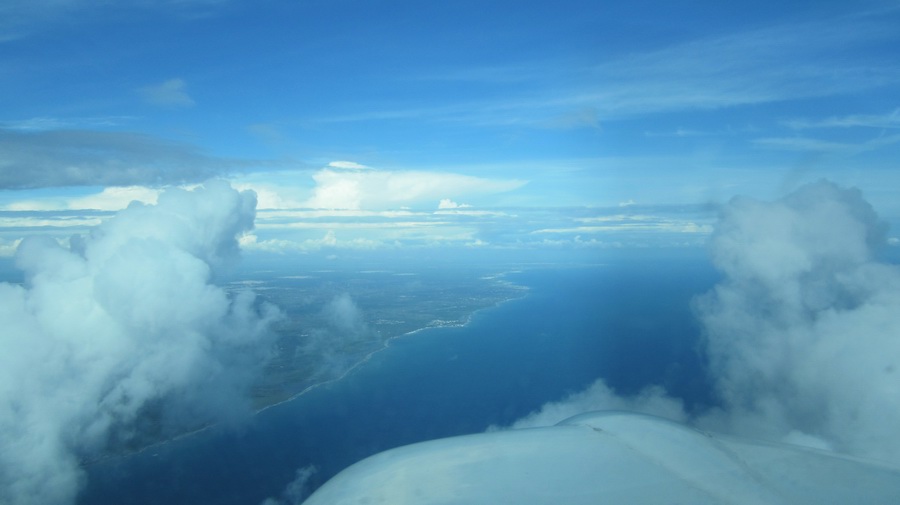 We departed with nice weather, although, it was about 8 degrees less than the day before after the thunderstorm that night. In flight there were few clouds but it was ok. We could also see some CBs forming in the West, but they were easy to avoid. When we reached Italy the weather became worse. We saw a dark grey curtain of heavy rain and clouds in front of us and also to the West, in the East it was clear. We decided to fly East to the coast to fly around that curtain and we had to coast out a little bit, but it was clear we could fly round the bad weather.
Italian landscape: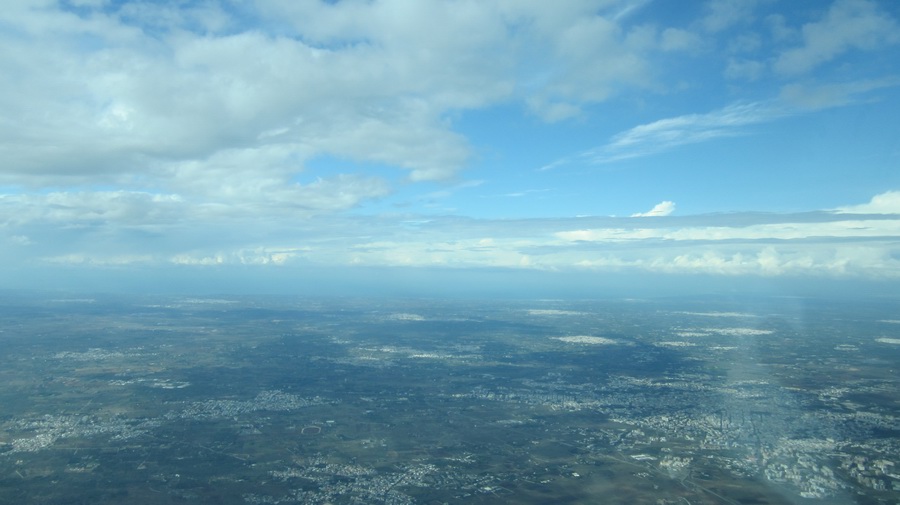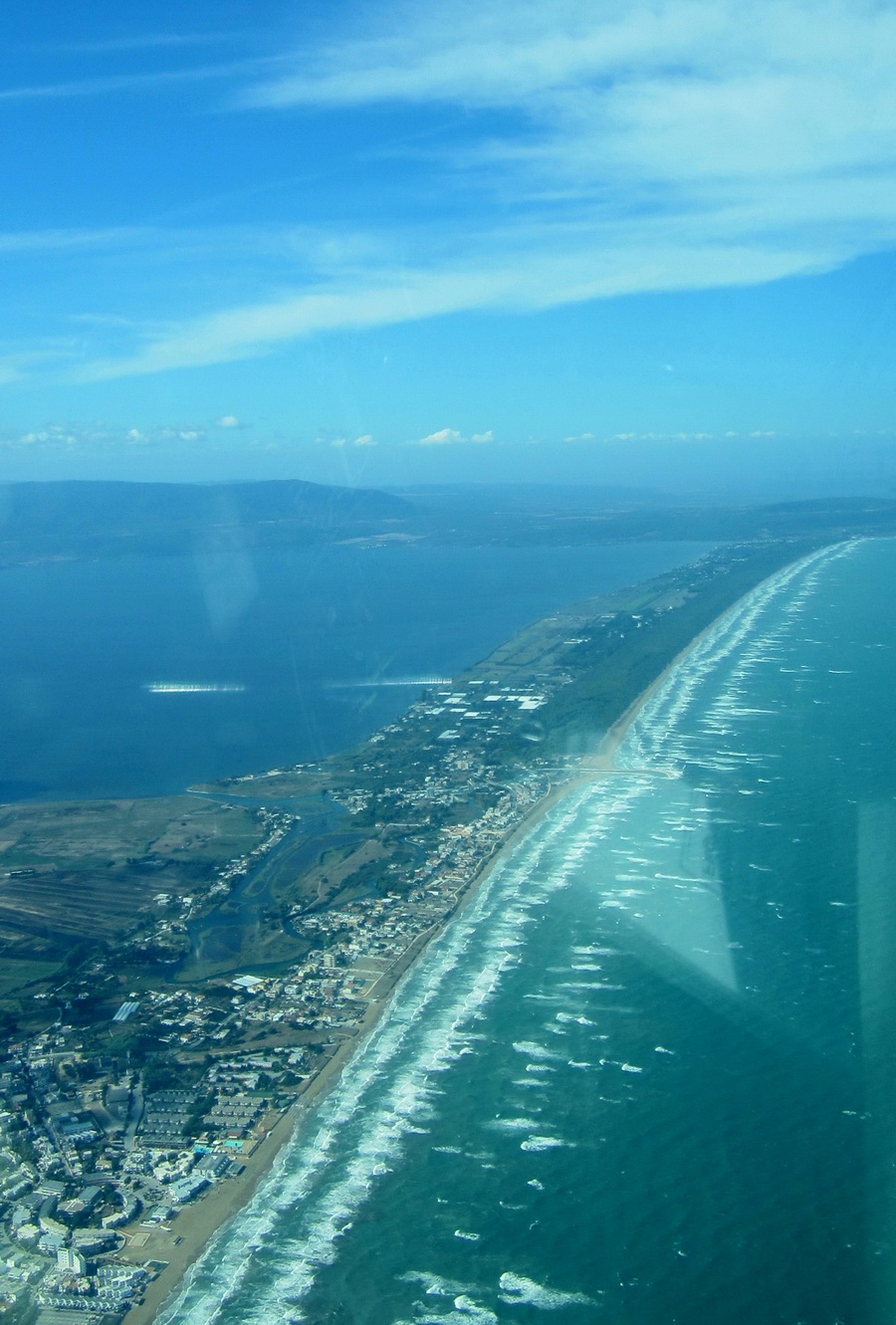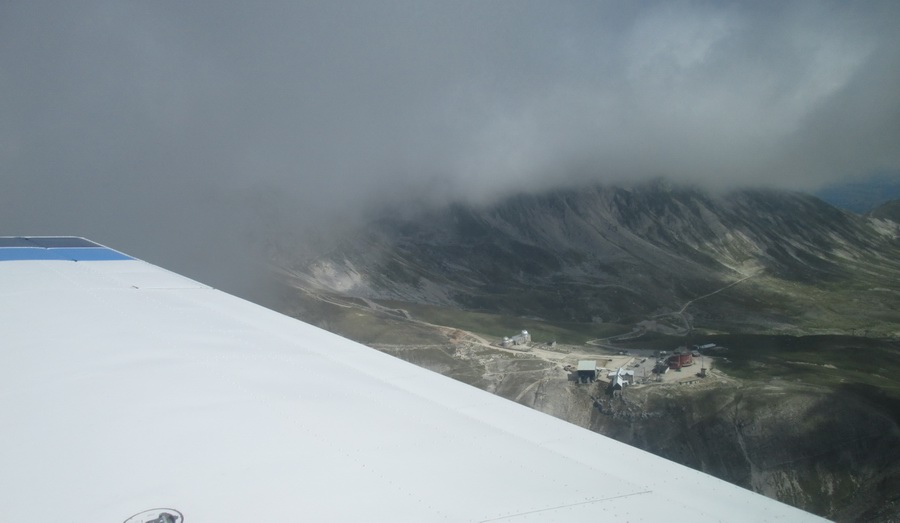 In contact with ATC I gave them a few IFR points for our new routing to Corsica via the East Coast of Italy (Skydemon is really great for that) and once we were behind the curtain it was again sunny and nice weather. The rest of our trip went again as expected.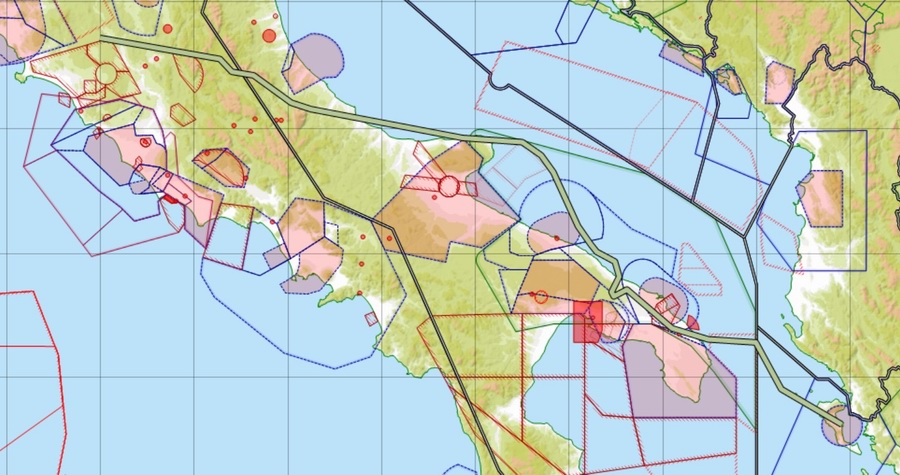 Elba: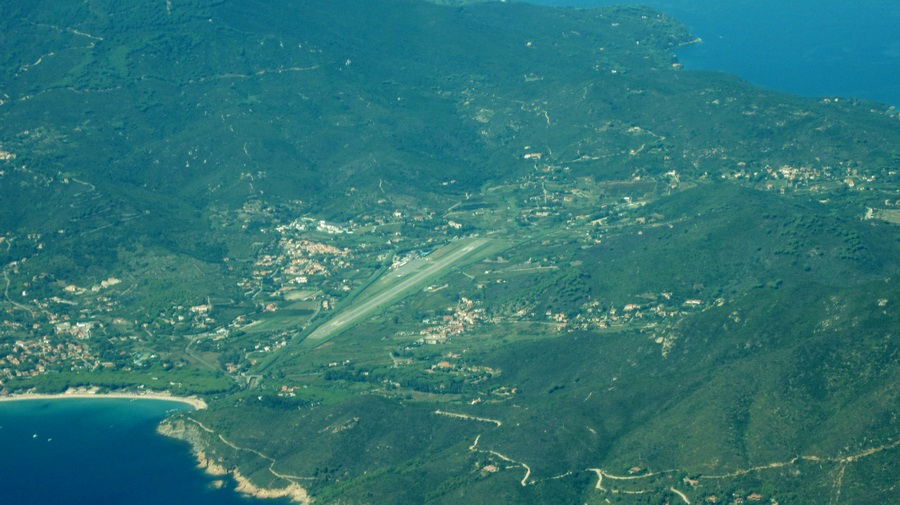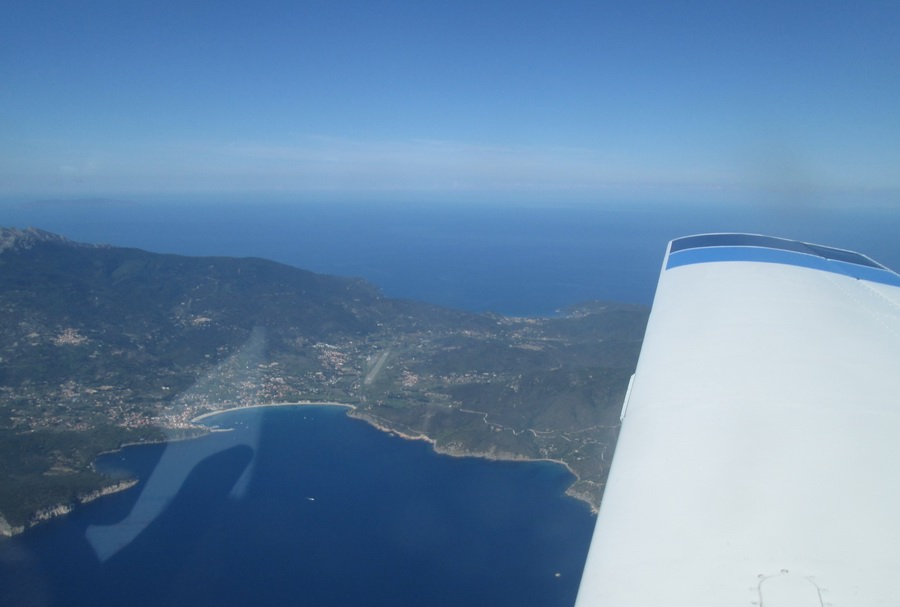 Calvi, Corsica: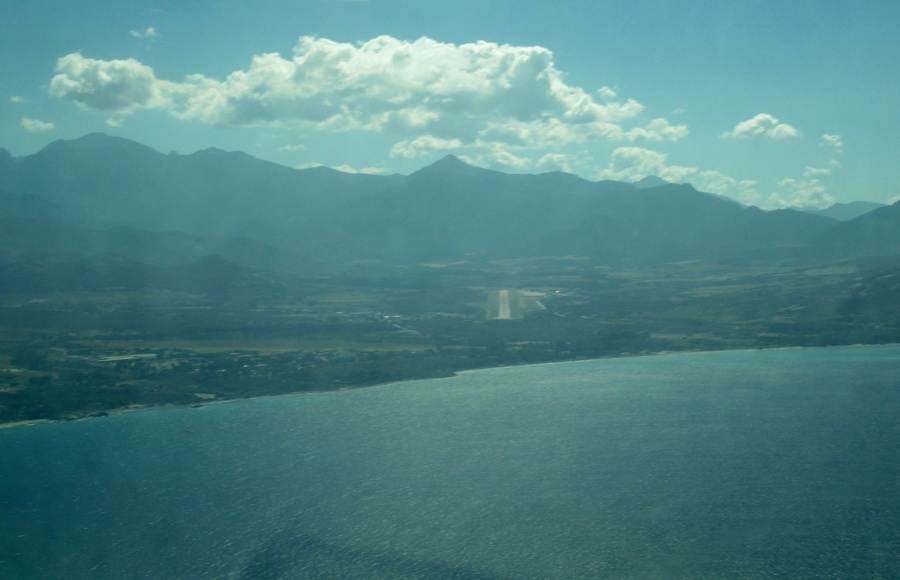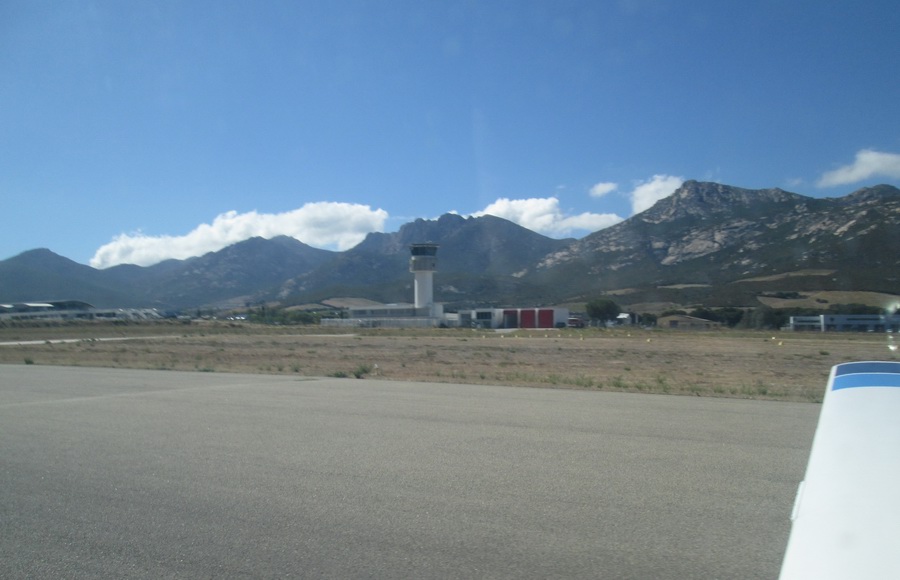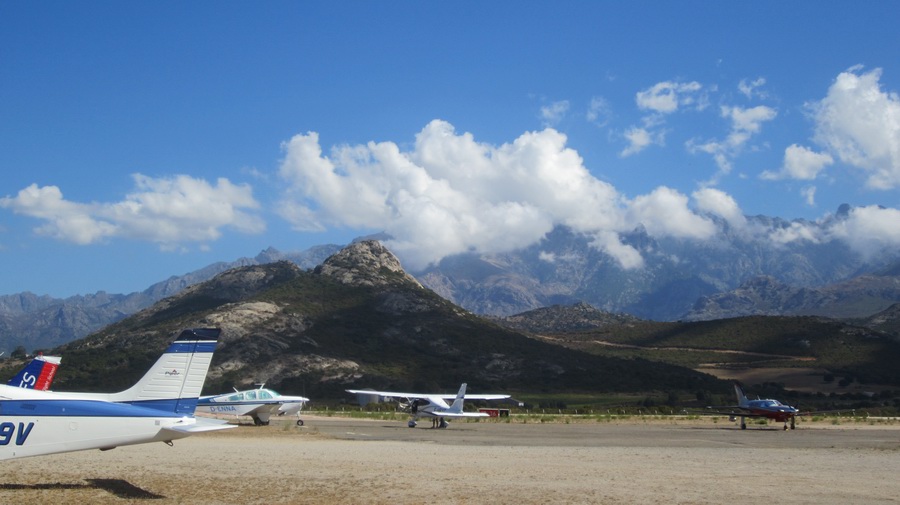 In Corsica we found a hotel in Calvi, visited the city and the beach (but it was too cold for a swim for me (around 26°))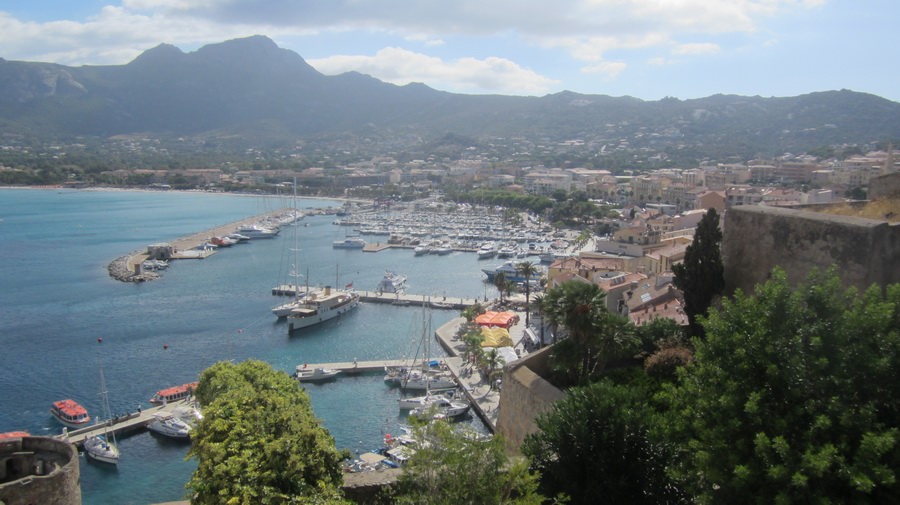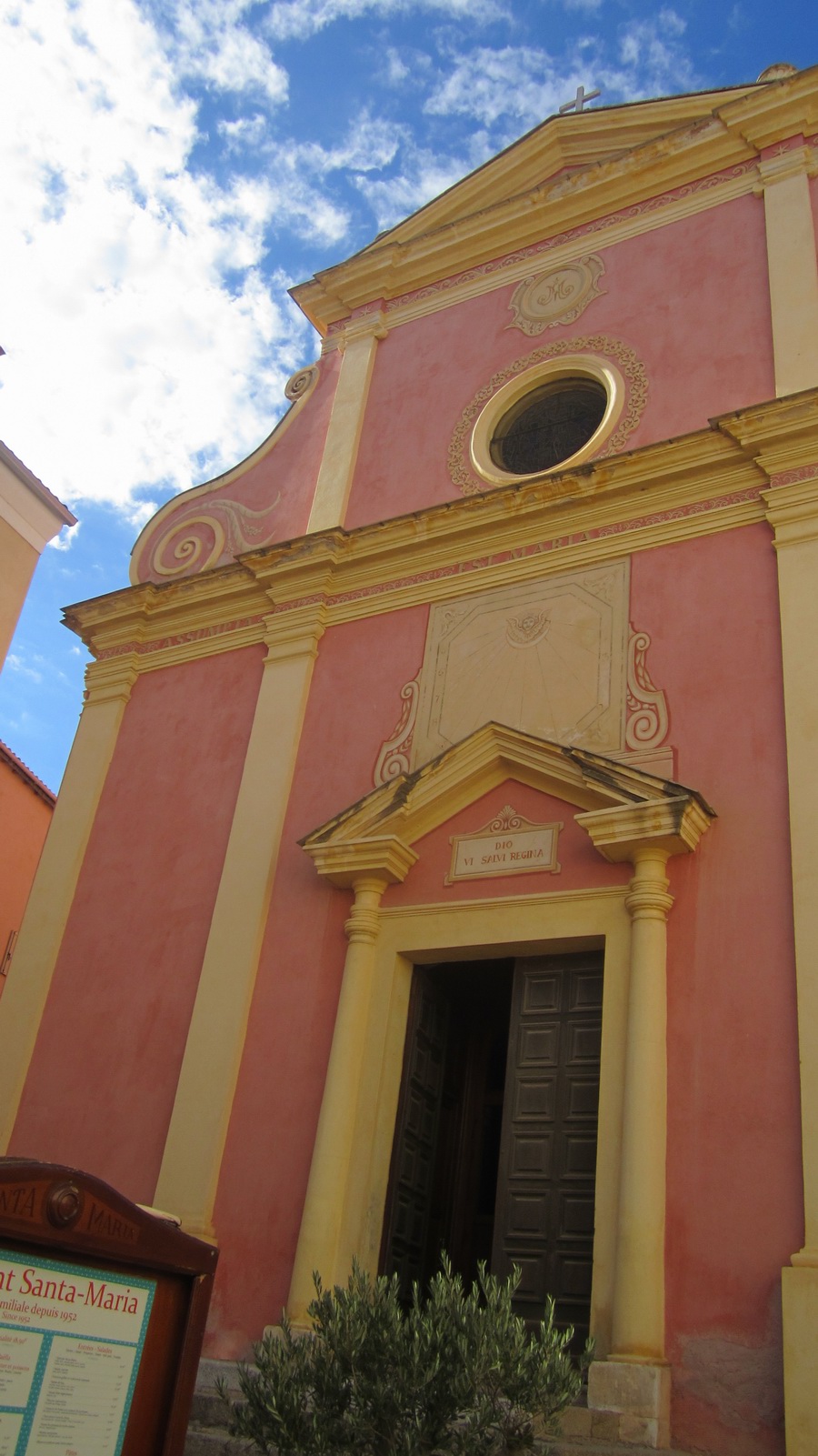 The Citadel:
After a tasty meal in the harbor, we went back to our hotel to study the weather because the last leg would be the most challenging part of whole the trip.
The weather forecast predicted two heavy fronts approaching from West to East, with a few hours in between. I forgot immediately my first plan to fly to Lugano for lunch and after that back to Belgium. With this weather, Lugano and the Alps where no option, we had to be happy if we could reach Belgium.
It seemed the first front would pass just before noon over Belgium and the North of France. After this front there would be a gap of a few hours In between and the next front would be there, passing from West to East over whole France and Belgium.
I figured out before noon it would be ok South of Geneva and just around noon, there would be the gap between the two fronts North of Geneva and it would be possible to reach Belgium. I had to stay just next to the first front and then I would have a gap of nice weather next to me before the next front would be there and I had to see it coming. Later on the day reaching Belgium would not be possible anymore in VMC.
Again we decided to leave early, to be around Geneva at noon.
Leg11 – 22.09.2015 – Corsica (LFKC) to Charleroi (EBCI) – 582NM
Next day it was a beautiful morning at Corsica. CAVOK and a little sun. Nothing like to expect the bad weather coming.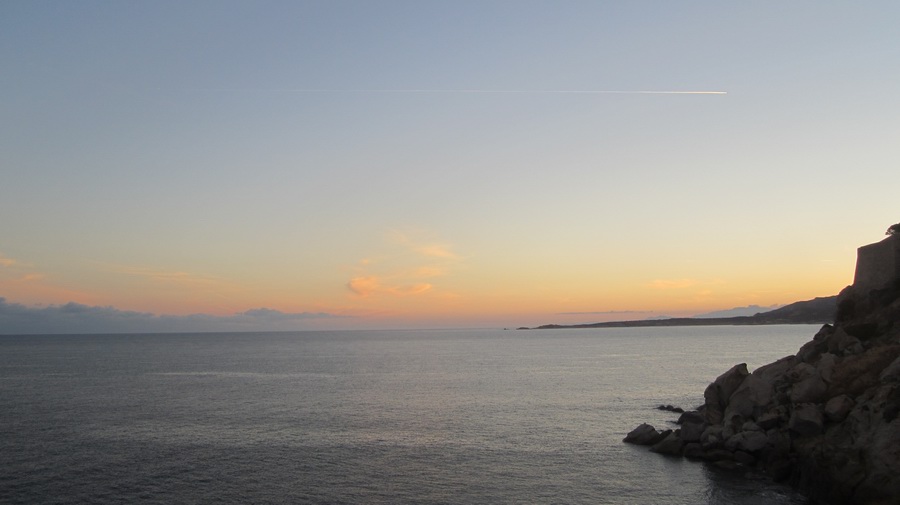 METAR LFKC 220600Z VRB02KT CAVOK 13/05 Q1011 NOSIG
We headed to the Airport and after the formalities I went again to the metoffice to discuss whole my plan with the Weatherman. He looked everything up and agreed my plan was the only and best option to reach Belgium. It should be doable on paper.
We left Calvi and headed to France. Still nice weather with only few clouds, we decided to climb out to FL 85 and fly overhead the beginning of the mountains. It was a more direct routing and we would gain time.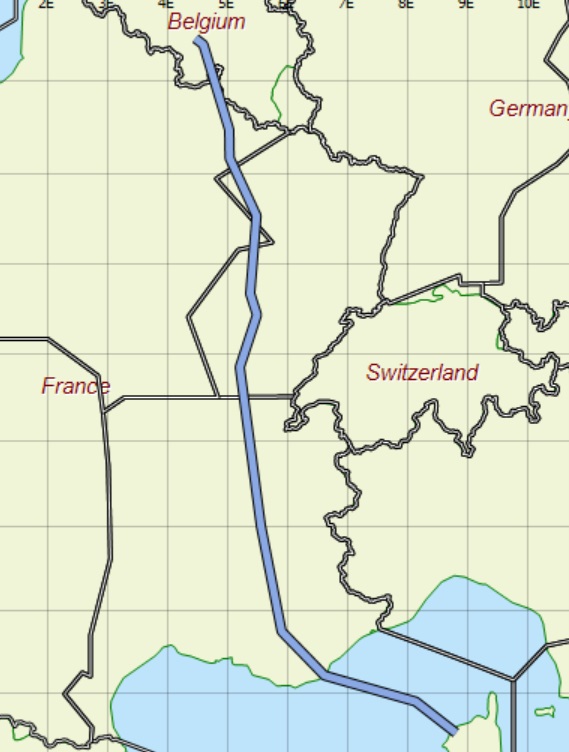 St Tropez: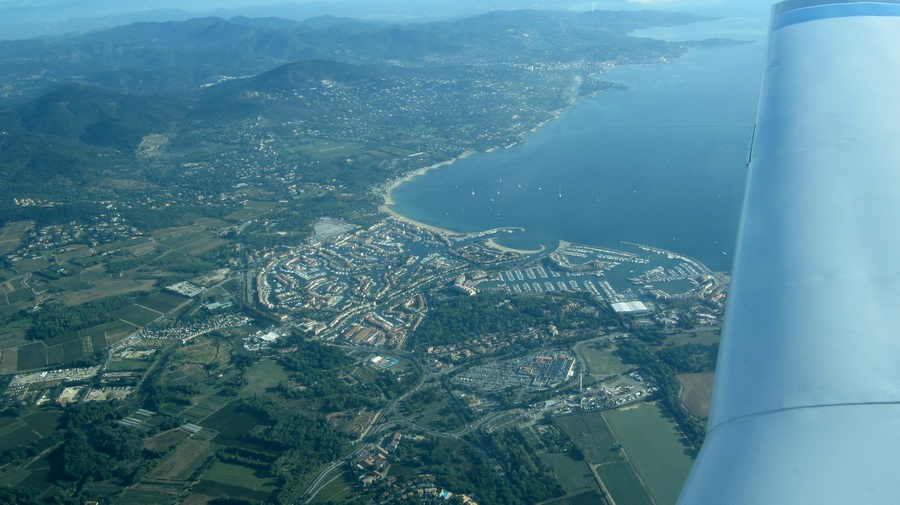 Southern France: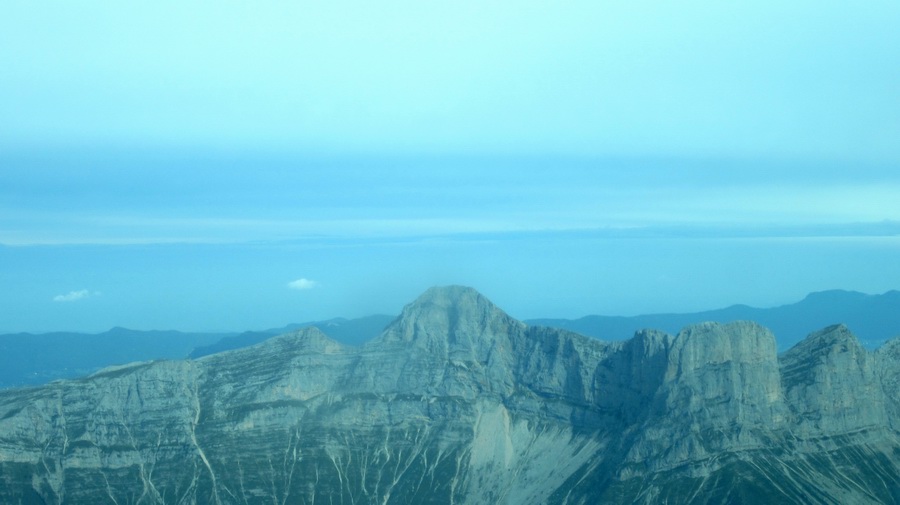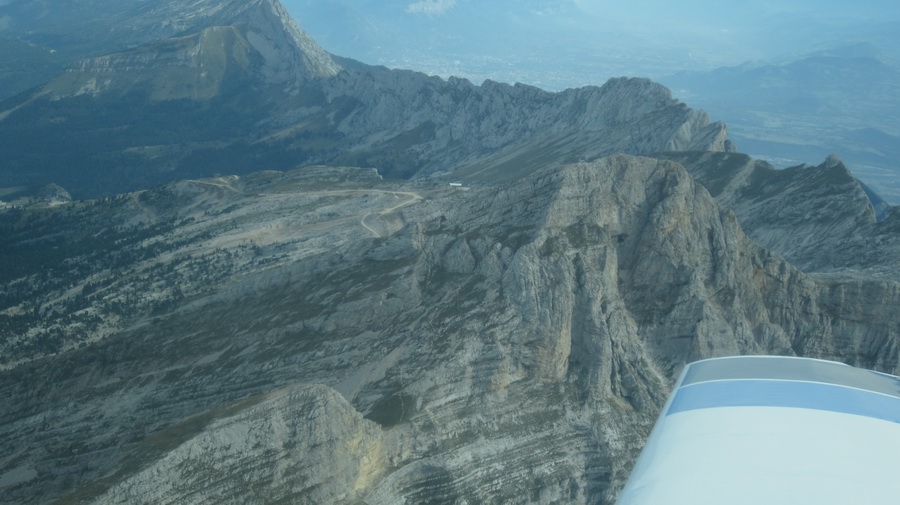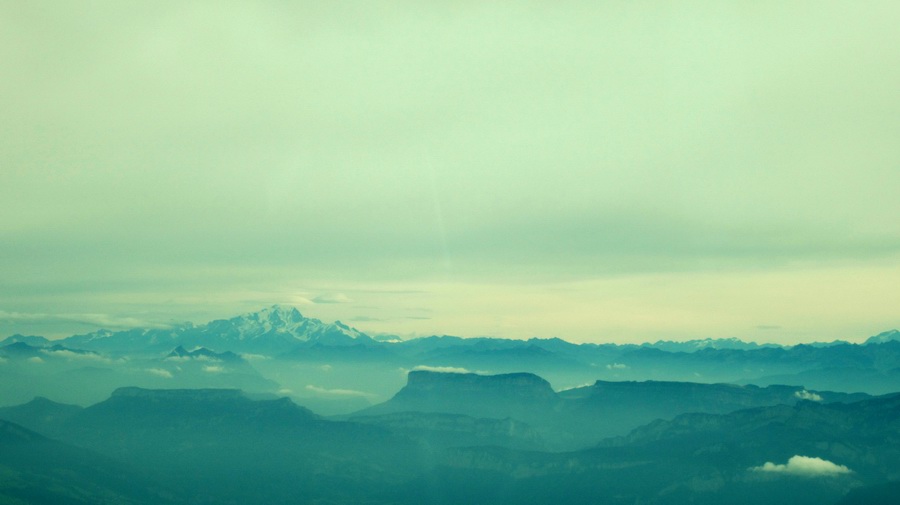 As we predicted, North of Geneva we saw more and more clouds, forcing us down to about 1000 to 1800ft. On our left it was not good, but ok, on our right I think we were just behind the front. Really bad weather but nothing dangerous anymore. We were that day the only GA traffic on the radio and I was constantly checking the fields in our neighborhood for the case it would become too bad and we had to land.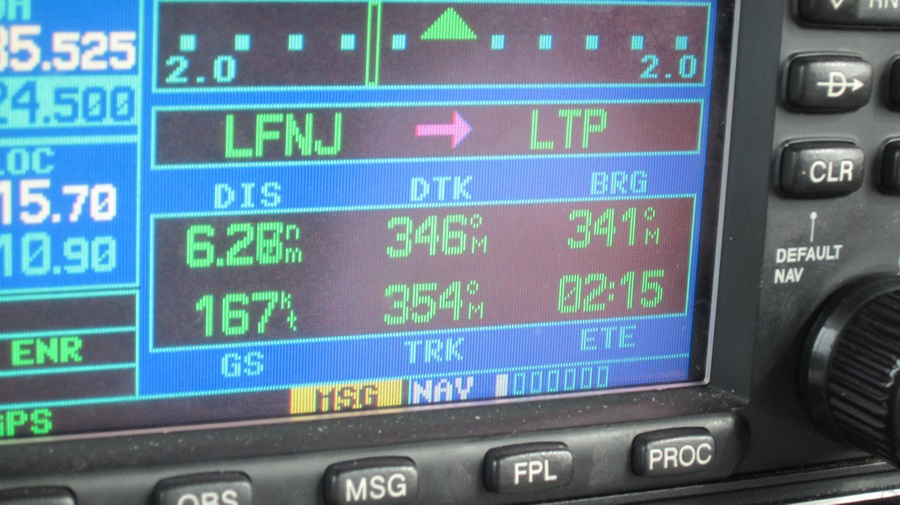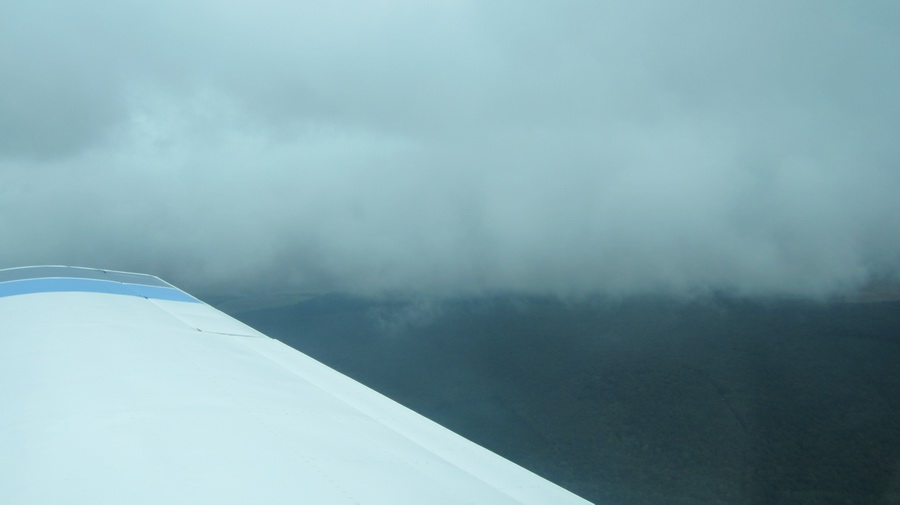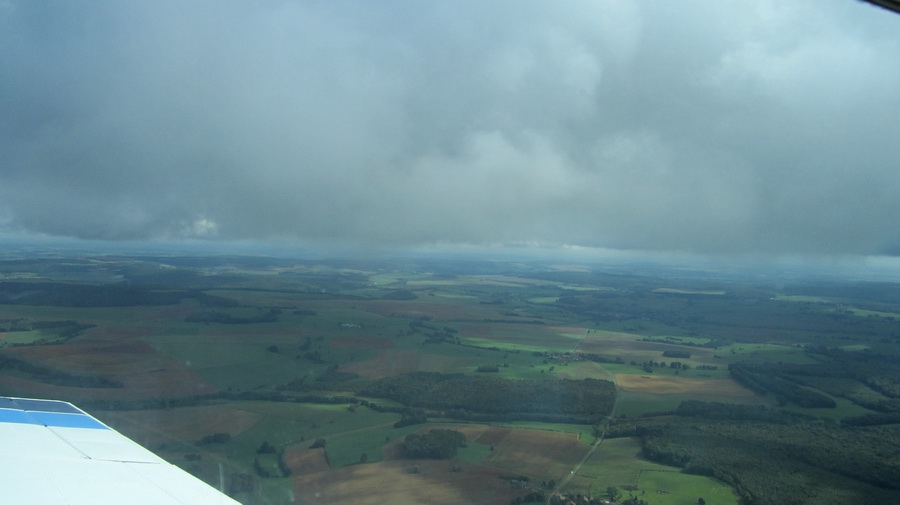 We reached the Belgian border and I was not sure we would be allowed to enter EBCI CTR because we were under the minima for VFR (when I checked the ATIS) I thought Special VFR is normally only for leaving a CTR, not entering one. But when we contacted EBCI we got immediately a clearance for entering and joining lefthand downwind for landing. It was a bit drizzling with low clouds but nothing bad, that had still to come.
After landing we taxied to the GA apron and we stepped out in a cold (13°C!!) and rainy Belgium.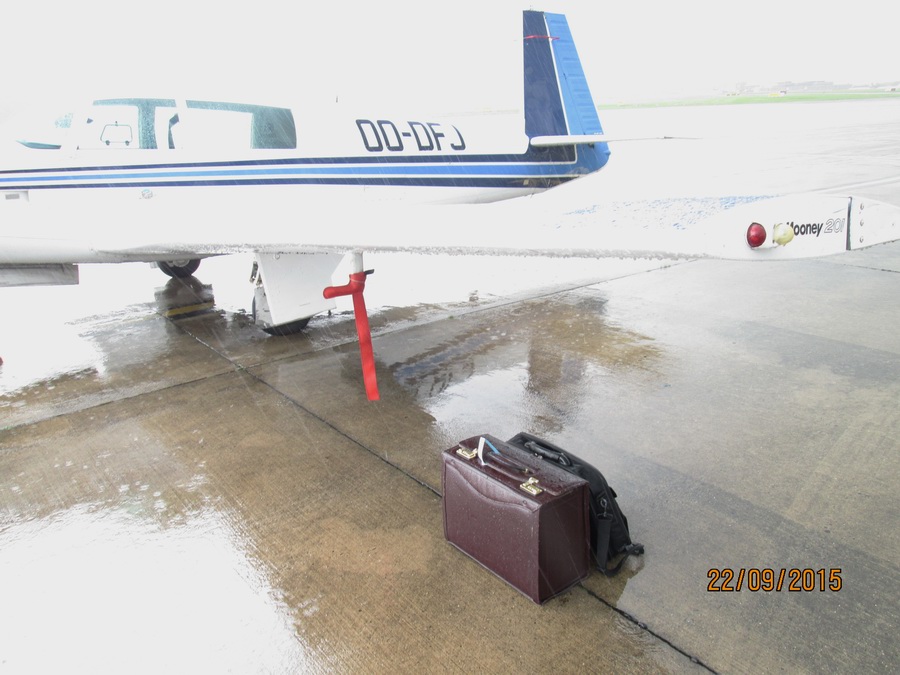 METAR EBCI 221420Z 22011KT 9999 FEW008 SCT014 13/10 Q0999 RERA TEMPO 4000 SHRA BKN014
METAR EBCI 221550Z 21011KT 9999 FEW014CB SCT040 10/08 Q1000 NOSIG
METAR EBCI 221850Z 20005KT 9999 -SHRA FEW015CB SCT025 10/09 Q1001 TEMPO 4000 SHRA BKN015CB
A few notes
After all, it was a wonderful trip and we were very lucky with the weather most part of the trip. A nice experience and trips like this are the reason why I learned to fly and why I chose an ATO on a controlled airfield for my PPL. For the rest I know now I have to thrust myself and not let distract me by others. At the end, on my own club I got good reactions on this trip and it did give me credits for their Mooney on further trips, although I am the same pilot as before.
The Athens Flying Week is really a nice initiative. Also AOPA Greece is doing really a lot of good work for General Aviation in Greece. They are always there to help you out and answer your questions. I would say: if you want to visit Greece of maybe the Athens Flying Week next year: do not hesitate! Geece is easier than you think. There are also very good VFR charts from Greece made by helicopter pilots.
Written by "Vieke" September 2015
Last edited 5th January 2016